F*It Club
The Spring Fling: Happily Ever After
&nbsp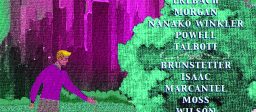 October 27-31 2021
IN RESIDENCE: October 19 – November 1, 2021
It's the TENTH and FINAL Spring Fling, with playwrights riffing on the theme of "Happily Ever After." The critically-acclaimed, award-winning collection of world-premiere plays returns (finally!) with TEN, brand new, commissioned selections in honor of our tenth and final year! There are TWO SERIES of 5 plays each – don't miss either show of funny, heartbreaking, exciting new work!
LENGTH OF SHOW: Approx 65 mins long
PRICE: $20 for one ticket, $30 for two tickets
You can use your second ticket on the same show, or a different one! You'll have the opportunity to tell us after your order which show to apply your second ticket to – instructions included with ticket purchase.
At IRT:154 Christopher st. NYC #3B (third floor)
*Covid-19 Proof of Vaccination required for entry – more information below.
PERFORMANCES:
SERIES A: I WILL SURVIVE
World Premiere Plays by Bekah Brunstetter, Daniel K. Isaac, Gregory S. Moss, Matthew Lee Erlbach, & Chelsea Marcantel
Directed by Adam Arian, Michelle Bossy, Geordie Broadwater, & Tom Costello
Featuring Matthew J. Harris*, Glenn Morizio, Dale Soules* Mara Kassin*, Rory Kulz*, Allyson Morgan*, Ryan Spahn*, & Sarah Ellen Stephens*
Wed 10/27 @ 8p
Fri 10/29 @ 8p
Sat 10/30 @ 2p
SERIES B: LOVE SPELL
Featuring World Premiere Plays by Allyson Morgan, Leah Nanako Winkler, Larry Powell, Daniel Talbott, & Pia Wilson
Directed by Chris Cragin-Day, Kevin Laibson, Shannon Sindelar, & Chris Stack
Featuring Vandit Bhatt*, Tsilala Brock*, Mara Kassin*, Rory Kulz*, Rachel Lin*, TanyaMaria McFarlane, Anna O'Donoghue*, Oliver Palmer,* Sky Smith*, & Sarah Ellen Stephens*
Thurs 10/28 @ 8p
Sat 10/30 @ 8p
Sun 10/31 @ 2p
Producer – Allyson Morgan
Associate Producer – Mara Kassin
Covid Safety Officer + Production Coordinator – Amanda Fischer
Set/Prop Design – Polina Minchuk
Light Design – Erin Feil
Sound Design – Lawrence Schober
Costume Design – David Mitsch and Christina Wells Madison Perlman
Graphic Design by Clara Haught
*denotes AEA member / AEA approved showcase
C'mon. Get yourself a (10th! Final!) Spring Fling.
"The writing here is insightful and often funny."
– The New York Times
"Shows like 'Spring-Fling' are rare. Indomitably weird and high-brow, but without being esoteric to the point of pretension. The writing is unique, the direction excellent, and the cast on-point. I highly recommend it if you need to see theatre that is unlike every other show on or off Broadway. It's what I wish every one-act festival could be. This was a venue for honest theatrical experimentation, performed by people who unquestionably knew what they were doing. I love that. I recommend checking out F* It Club's work in future." – On Stage Blog
COVID PROTOCOL:
This performance will be seated at full capacity without social-distancing. All guests (ages 2+) are required to wear a face-covering, regardless of vaccination status and must show proof of vaccination. However, performers will not be masked.
There are multiple ways to show proof of vaccination.
1. A photo or hard copy of their CDC vaccination card
2. NYC COVID Safe App
3. New York State Excelsior App
4.Official vaccine record
5. A photo or hard copy of an official vaccination record of a vaccine administered outside the United States for one of the following vaccines: AstraZeneca/SK Bioscience, Serum Institute of India/COVISHIELD and Vaxzevria, Sinopharm, or Sinovac.
IRT Theater is a grassroots laboratory for independent theater and performance in New York City, providing space and support to a new generation of artists. Tucked away in the old Archive Building in Greenwich Village, IRT's mission is to build a community of emerging and established artists by creating a home for the development and presentation of new work.
The Spring Fling: Happily Ever After is made possible in part with public funds from Creative Engagement, supported by the New York City Department of Cultural Affairs in partnership with the City Council and administered by LMCC.
This program is supported, in part, by public funds from the New York City Department of Cultural Affairs in Partnership with the City Council and The Peg Santvoord Foundation, Inc.
PLEASE NOTE:
-All sales final
-There is no late seating at IRT Theater
-Covid-19 Proof of Vaccination required for entry.
***IRT is a fully wheelchair-accessible facility. Please reach out to Kori Rushton if you have any accessibility questions or concerns, krushton@irttheater.org ***