A Westside Experiment
Young Actors Laboratory
&nbsp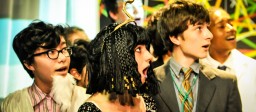 Summer 2020
As the parent of a theatrically inclined adolescent, IRT's Westside Experiment summer theater program was everything I could have hoped for. The program's adult staff never underestimated the creative abilities of the youth, and provided them with the support and skills necessary to imagine, design and perform a remarkably sophisticated multi-media theatrical experience. My daughter made many friends over the 2 weeks of the program and was able to stretch her theatrical muscles in ways she never imagined, and thoroughly enjoyed.
-Joe Matunis, Father of Maya Matunis
For Ages 13-17
Dates: July 6-10, 13-18, 2020
Time: 10am-3pm
Performances: Sat. July 18, 2020 11am & 1pm
Contact IRT: 212-206-6875 we@irttheater.org
Since 2007, IRT Theater has served the downtown theater community by providing space, support and community for independent artists through its 3B Development Series. An offshoot of IRT's 3B Development Series, the Westside Experiment offers students the skills to create original devised theater in collaboration with a working theater company in residence at IRT.
The progressive Young Actors Laboratory program still covers all the theater essentials, like physical-acting technique, improvisation & script writing, but with a decidedly downtown twist. This years unique summer experience will include a fusion of sign language, spoken word, mime, storytelling, dance and music. This is a great choice for students, hearing, Deaf, and Hard-of hearing, who are interested in theater but eager to try something more offbeat than, say, Oklahoma.
No prior acting experience necessary. Artists of all disciplines encouraged to apply. Bring an open mind and have it blown away!
Tuition: $600 per student (payable in cash or check)
Deposit: $200 non refundable deposit to hold spot.
Fully accessible and FREE for Deaf and Hard-of-Hearing students.
DOWNLOAD TUITION ASSISTANCE APPLICATION
NO CANCELLATIONS
Check should be sent to: IRT Theater 154
Christopher st. 3B NY, NY 10014
Credit Card price: $621.99
BEHIND THE SCENES:
In 2016-2017 We were under a contract with the John F. Kennedy Center for the Performing Arts. It was designed to provide enriching career development opportunities to Deaf and Hard-of-Hearing youth through the Westside Experiment. Please watch our video for more information. CLICK HERE
PRESS
The Weirder the Better?
-November 2012 issue of American Theater Magazine
IRT'S Westside Experiment Provides Eureka Moments for Teens
-Backstage 2014
Not all experiments happen in the lab.
– Featured in Seen in NY presented by Teachers College, Columbia University 2015
ABOUT RESIDENT COMPANY: DANGEROUS SIGNS
Dangerous Signs is a performance group that represents global community building through the use of American Sign Language (ASL), spoken English, music and dance. We intend to present the beauty of Deaf, hearing and ethnic cultures when they all combine on stage.
HONORARY GUEST TEACHERS:
Julia C. Levy is Executive Director of Roundabout Theatre Company. In her 25 years with Roundabout, Julia has guided its growth from a small off-Broadway company to a leading not-for-profit institution. Prior to Roundabout, she held positions at the Boston Symphony Orchestra and Lincoln Center for the Performing Arts. She received her BS the University of Vermont and attended Harvard Business School Executive Education program. She currently serves on the Times Square Alliance Board of Directors and the NYC Department of Education Advisory Council for Arts Education. She is a frequent lecturer on arts management, sponsorship, governance and fundraising.
Sarah J. Hom is Roundabout Theatre Company's Director of Audience Services. She is passionate about and dedicated to increasing accessibility and inclusion in the arts. Prior to joining Roundabout, she held senior positions with the Denver Center for the Performing Arts and the Colorado Symphony and was Board Chair for Phamaly Theatre Company. When she isn't sitting inside a theatre (which isn't often), Sarah also enjoys skiing; particularly with the NSCD in Winter Park, Colorado.
Alexandria Wailes DASL work includes ABC's Quantico, Sundance TV's This Close and the Broadway revival of Children of a Lesser God. Her performance credits include Broadway: Spring Awakening (associate choreographer & Adult Woman), Big River. NY/Regional: Mother Courage (with Meryl Streep), A Kind of Alaska, Our Town, Pippin, Sleeping Beauty Wakes (LA Ovation nomination). Television: Law & Order: Criminal Intent, Nurse Jackie. Film: The Hyperglot. Web Series: High Maintenance, Don't Shoot The Messenger. She performed at Super Bowl LII with Pink. Besides endeavors within the performing arts fields, she is a museum educator for the Whitney Museum, The Jewish Museum and the Lower East Side Tenement museum.
John McGinty Broadway: Children of a Lesser God! NY (selected): Fêtes de la Nuit (New Ohio Theatre), Veritas (The Representatives), Samuel Hunter's The Healing (Theater Row). Regional (selected): Levity (Warren Miller Performing Arts Center), Children of a Lesser God (Berkshire Theatre Group), The Hunchback of Notre Dame (Sacramento Music Circus and La Mirada Theatre), Tribes (Guthrie Theater, Steppenwolf Theatre, Everyman Theatre), Pippin (Center Theater Group, Deaf West). Film (selected): "Wonderstruck" with Todd Haynes, Award-winning "Sign." TV/Web Series (selected): "High Maintenance" (HBO/Vimeo), "Don't Shoot the Messenger." @TheJohnMcGinty https://www.youtube.com/watch?v=moZVsEYJUpE
This program is supported, in part, by public funds from the New York City Department of Cultural Affairs in Partnership with the City Council, New York State Council on the Arts, and The Nancy Quinn Fund, a project of ART-NY.