A Westside Experiment
Young Actors Laboratory
&nbsp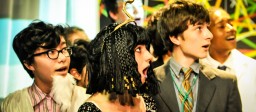 Summer 2018
As the parent of a theatrically inclined adolescent, IRT's Westside Experiment summer theater program was everything I could have hoped for. The program's adult staff never underestimated the creative abilities of the youth, and provided them with the support and skills necessary to imagine, design and perform a remarkably sophisticated multi-media theatrical experience. My daughter made many friends over the 2 weeks of the program and was able to stretch her theatrical muscles in ways she never imagined, and thoroughly enjoyed.
-Joe Matunis, Father of Maya Matunis
For Ages 13-18
Dates: July 2-6, 9-13, 2018 (No class on July 4)
Time: 9am-3pm
Performances: Sat. July 14, 2018 11am & 1pm
Contact IRT: 212-206-6875   we@irttheater.org
Since 2007, IRT Theater has served the downtown theater community by providing space, support and community for independent artists through its 3B Development Series. An offshoot of IRT's 3B Development Series, the Westside Experiment offers students the skills to create original devised theater in collaboration with a working theater company in residence at IRT.
The progressive Young Actors Laboratory program still covers all the theater essentials, like physical-acting technique, improvisation & script writing, but with a decidedly downtown twist. This years unique summer experience will include a fusion of sign language, spoken word, mime, storytelling, dance and music. This is a great choice for students, hearing, Deaf, and Hard-of hearing, who are interested in theater but eager to try something more offbeat than, say, Oklahoma. 
No prior acting experience necessary. Artists of all disciplines encouraged to apply. Bring an open mind and have it blown away!
Tuition: $600 per student (payable in cash or check)
Deposit: $200 non refundable deposit to hold spot.
Fully accessible and FREE for Deaf  and Hard-of-Hearing students.
DOWNLOAD TUITION ASSISTANCE APPLICATION
NO CANCELLATIONS
Check should be sent to: IRT Theater 154
Christopher st. 3B NY, NY 10014
Credit Card price: $621.99
PRESS
The Weirder the Better?
-November 2012 issue of American Theater Magazine
IRT'S Westside Experiment Provides Eureka Moments for Teens
-Backstage 2014
Not all experiments happen in the lab.
– Featured in Seen in NY presented by Teachers College, Columbia University 2015
ABOUT RESIDENT COMPANY: DANGEROUS SIGNS
Dangerous Signs is a performance group that represents global community building through the use of American Sign Language (ASL), spoken English, music and dance. We intend to present the beauty of Deaf, hearing and ethnic cultures when they all combine on stage.
LEAD TEACHING ARTIST:
Luane Davis Haggerty, Ph.D. is a Senior Lecturer at RIT/NTID in Creative and Cultural Studies. She is a professional actress and has appeared on Broadway as a featured performer. Her Off-Broadway credits include thirteen Gilbert and Sullivan operettas and premieres of works by Robert Patrick and Joyce Carol Oates. Her regional and stock credits range from Shakespeare to Sondheim and she has been heard in a range of commercial voiceovers. Notable awards for her theater work include an Off-Off-Broadway Review award for Best Director in an NYC Showcase, and a Pulitzer nomination for her play "Windows of the Soul."
HONORARY GUEST TEACHERS:
Alexandria Wailes is a professional actress. Broadway: Spring Awakening (associate choreographer & Adult Woman), Big River. NY/Regional: Mother Courage (with Meryl Streep), A Kind of Alaska, Pippin, Sleeping Beauty Wakes (LA Ovation nomination). Television: Law & Order: Criminal Intent, Nurse Jackie. Film: The Hyperglot. Web Series: High Maintenance, Don't Shoot The Messenger. AT&T's Feel the Music campaign: Walk The Moon's Different Colors. Ms. Wailes is also a member of the Heidi Latsky Dance Company. Besides endeavors within the performing arts fields, she is a museum educator for the Whitney Museum, The Jewish Museum and the Lower East Side Tenement museum.
Kim Weild is a Drama Desk nominated director, whose work has been seen at Lincoln Center Theater, Carnegie Hall, Teatro alla Scala, New York Theater Workshop, Theater Row, Primary Stages, New York Live Arts, Mark Taper Forum and Williamstown Theater Festival. She is the Founding Artistic Director of OUR VOICES, a company dedicated to investigating themes of otherness in society. They created a world premiere American Sign Language production of Pinter's A Kind of Alaska, weaving three forms of ASL into the text. Weild is a Visiting Associate Professor of Theater at Wesleyan University.
ASSISTANT TEACHERS:
Danica Zielinski is a graduate of the Masters of Secondary and Special Education with focus on English and Theatre from the National Technical Institute for the Deaf at the Rochester Institute of Technology.  She had been a performer and writer for Dangerous Signs, An American Sign Language performance group, for the last four years .Last year she had the opportunity to perform in "Tweltfh Night" a Public Theater production at the Delacorte Theatre in Central Park through the New York Deaf Theatre.  Favorite signing roles include Catherine in "Pippin" Peggy from "Godspell," and Tracy Turnblad in "Hairspray."  Danica is a freelance theatre designer and has designed over fifteen productions.  She is a merited designer through the Kennedy Center American College Theatre Festival.  She looks forward to new production of a remake of "Tell Tale Heart" that she co-created and working on becoming a Certified Deaf Interpreter.  Please visit and like Dangerous Signs on Facebook to follow to see future work.
Malik Paris is from Philadelphia, born and raised. He has been performed and co-founder member of Dangerous Signs since 2011. Godspell as Jesus and Pippin as Leading Player at GEVA in Rochester and tour in NYC last year. He has worked with New York Deaf Theatre (NYDT) in TITUS as Aaron the Moor and Rocky Horror Picture Show as Riff Raff. He was pleased to work with both instructors and kids past two weeks.
Lucia Constantino is a Long Island native who has been immersed in the Deaf community for most of her life. Learning from her immigrant parents and Deaf older sister, she has incorporated diversity and inclusion in her life with her peers as well as in her work. She has spent much of her high school career and summer vacations as a junior coordinator of youth ministry at Good Shepherd Church in Holbrook, NY as well as previous summers working as an assistant teaching at Developmental Disabilities Institute (DDI) of Long Island. She currently attends Rochester Institute of Technology where she is studying ASL English interpreting with an immersion in Deaf theatre to be able to provide access to and incision of the Deaf community in theater. She is a member of the ASL based performing arts group 'Dangerous Sign' performing in diverse plays and workshops in local theaters, elementary schools and universities for the past two years. She hopes to continue teaching acceptance and inclusion within theater and the Deaf community.
THIS PROGRAM IS SUPPORTED, IN PART, BY
PUBLIC FUNDS FROM THE NEW YORK CITY DEPARTMENT OF CULTURAL AFFAIRS IN PARTNERSHIP WITH THE CITY COUNCIL,
THE NANCY QUINN FUND-A PROJECT OF THE ALLIANCE OF RESIDENT THEATRES/NEW YORK(A.R.T./NEW YORK),
AND GENEROUS SUPPORTERS OF PATRONS LIKE YOU!