ASL Creative
&nbsp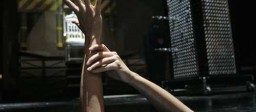 IRT's mission is to build a community of emerging and established artists by creating a home for the development and presentation of new work. IRT's focuses are twofold. We support independent artists through our Artist in Residency Program, and we provide access for Deaf and hard of hearing communities through our ASL Creative Program. ASL Creative provides professional arts opportunities for Deaf and hearing artists to collaborate in creating new work produced by IRT Theater. ASL Creative's education program, Westside Experiment, pairs Deaf and hearing students with a working theater company to educate young artists on how to create theater collaboratively. ASL Creative seeks to provide common ground for Deaf and hearing audiences by supporting the development of new theater with, for and by Deaf artists.
IRT has worked with Deaf artists for over 30 years, enabling us to be a part of a growing community of Deaf artists, their families, and friends. Some organizational partnerships we have established over the years include: The Kennedy Center, NTID-National Technical Institute for the Deaf and New York Deaf Theatre.
This program is supported, in part, by public funds from the New York City Department of Cultural Affairs in Partnership with the City Council, New York State Council on the Arts, and The Nancy Quinn Fund, a project of ART-NY.