Yuval Boim and Darren Katz
SeXcurity
&nbsp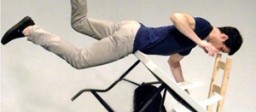 May 4-6 2013
In Residence: April 23- May 6 2013
SeXcurity follows disillusioned Daniel, link an Israeli-American gay screenwriter who, when confronted by a paralyzing family crisis, discovers the power of creativity and the resilience of the self in battling the biggest fear of all — New Jersey. Or Death. It's a matter of perspective.
Inspired by cultural theorist Leo Bersani's writing on radical intimacy, The Yoga Sutras of Patanjali and the events surrounding the 2010 Gaza flotilla, SeXcurity is a humorous and provocative inquiry into the conundrum of identity.
Written and performed by Yuval Boim
Directed by Darren Katz

Dramaturgy: Shannon Deep
Sound: Erik T. Lawson
Lighting: Todd Wren
Video: Tal Yarden
Music: Calder Kusmierski Singer
Costumes: Whitney Adams
Setting consultant: Jo Winiarski
Production stage manager: Aislinn Curry
Assistant director: Will Barnet
Production Manager: Alexis Prussack-Martin
Intern: James Dunn
Performances:?
Saturday, May 4, 2013 at 7 PM
Sunday, May 5, 2013 at 7 PM
Monday, May 6, 21013 at 4 PM and 8 PM
Ticket Price:?
FREE
Location: IRT Theater, 154 Christopher st. #3B (third floor)
Running time: 75 min.
"Surprisingly original and exhilarating. Nothing like anything I have ever seen on stage before. Yuval is a master at fusing rusty-edged stories of heart, soul, sex, love and family with extraordinary physical body expression…We were riveted!"
-Kathy Najimy
Other press for Yuval Boim:
"A surge of vitality"
-David Rooney, Variety
"Charming"
-Charles Isherwood, The New York Times
"Magical…Boim delves beneath the surface of human experience."
?-Chloe Veltman, SF weekly
Yuval Boim (writer/performer) has appeared off-Broadway in Mike Leigh's TWO THOUSAND YEARS (The New Group), PAPER DOLLS (Public Theater, workshop) and Professor Bernhardi (Marvell Rep). Other New York credits include New York Theatre Workshop, Culture Project, The Lark, IRT Theater (Anna Ziegler's MAP OF BROKEN GLASS), Abingdon Theatre, FringeNYC (Bixby Elliots' PN1923.45 LS01 volume 2: the book play), Henson PATCH, Abrons Arts Center, Kumble Theatre, The Brick (New York Clown Theatre Festival), HB Playwrights Theater (Bill Quigley's NOW BOARDING), Westbeth, WaxFactory (international tour). Regional theatre credits include THE PILLOWMAN and WILDERNESS OF MIRRORS at George Street Playhouse; Huntington Theatre, Premiere Stages, Traveling Jewish Theatre, EXIT, Adirondack Theatre Festival and Forrestburgh Playhouse. TV/Film: "Blue Bloods", "Law and Order: SVU", "All My Children", Center of the Universe (LOGO), the award-winning Abbie Cancelled (Sundance), and the upcoming film Are We Officially Dating (starring Zac Efron). Original work includes SYMPHONY OF FROGS (collaboration with Mugwumpin and renowned cellist Claudio Bohorquez), which was commissioned by Bebersee Festival in Germany following an artist residency in Lasserre-de-Prouille, France. He holds a BFA in Acting from Boston University College of Fine Arts and an MFA in Lecoq-BasedActor Created Physical Theatre from London International School of Performing Arts. He is on faculty at SUNY Purchase Conservatory of Theatre Arts. More at www.yuvalboim.com
Darren Katz (director) is currently Resident Director for THE LION KING on Broadway. He has developed and directed original plays, including YOU SAY TOMATO I SAY SHUT UP by Annabelle Gurwitch and Jeff Kahn (Orin Wolf/OBB, Producer), and I GOT SICK THEN I GOT BETTER by Jenny Allen (co-directed by James Lapine; New York Theatre Workshop, Producer). Current new projects
in development include LIFT UP YOUR SKIRT, written and performed by Kathy Najimy; ELEANOR & HICK by Tom Wilson Weinberg and Peggy Stafford (starring Lea Delaria, Cady Huffman and Mary Testa); THE BOYS UPSTAIRS by Jason Mitchell; and ODI by Beppe Savoni (Caroline Pecoste, Producer). Other directing credits include THE 25TH ANNUAL PUTNAM COUNTY SPELLING BEE (second National Tour), HAPPY SUNSHINE KUNG FU FLOWER (The Zipper Factory), and the development of original shows at Pace University and NYU/Strasberg Studios.