One-Eighth Theatre In association w/ IRT Theater
My Onliness
&nbsp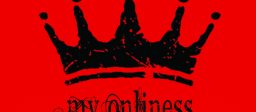 2020-2021 Season
3B Development Series | ASL Creative
IN RESIDENCE: 2020-2021 Season
A Mad King performs his royal power as an act of martyrdom in a desperate attempt to impress a mysterious petitioner while the Master of Ceremony orchestrates songs of torture, truth, and tenderness. (The poor Writer is simply collateral damage!) Is this a glimpse of our dystopian future? Or just the structure of human consciousness? An homage to Stanislaw Witkacy and his theories of "pure forms in theatre." Performed with fully integrated ASL interpreters.
A new collaboration between Daniel Irizarry and Robert Lyons, following the international success of Yovo (NYC/Poland/Cuba).
Workshop Presentation June 15, 2021 8-9pm
If interested in attending please reach out to:
Contact: krushton@irttheater.org
Subject Line: My Onliness Workshop
Seating is limited, attendance only if emailed a confirmation from IRT.
Text by Robert Lyons
Directed by Daniel Irizarry
Composer Kamala Sankaram
DASL Alexandria Wailes
In partnership with IRT Theater
Featuring Daniel Irizarry, Cynthia La Cruz, Kamala Sankaram, Gabriel Silva, Rhys Tivey and Alexandria Wailes
IRT Theater is a grassroots laboratory for independent theater and performance in New York City, providing space and support to a new generation of artists. Tucked away in the old Archive Building in Greenwich Village, IRT's mission is to build a community of emerging and established artists by creating a home for the development and presentation of new work.
My Onliness is currently in development with One-Eighth Theater, IRT, and New Ohio Theatre. This program is supported, in part, by public funds from the New York City Department of Cultural Affairs in Partnership with the City Council, New York State Council on the Arts, and The Nancy Quinn Fund, a project of ART-NY. Support for ASL interpretation on this production provided in part through funding from Access A.R.T./New York, a program of the Alliance of Resident Theatres/New York (A.R.T./New York).'