Wandering Bark Theatre Company
YOU / EMMA
&nbsp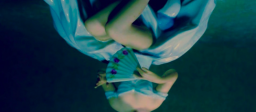 April 20-28, 2018
IN RESIDENCE: April 17 – 30, 2018

In this postmodern fever dream of Madame Bovary, Flaubert's 19th century protofeminist masterpiece collides with retro Americana and a future that's female. Emma Bovary's voracious desire cracks the facade of domestic life, unleashing a flood that challenges the constructs of femininity.
PERFORMANCES: 4/20: 8:00pm, 4/21: 8:00pm,  4/22: 8:00pm, 4/24: 8pm, 4/25: 8:00pm, 4/26: 8:00pm, 4/27: 8:00pm, 4/28: 8:00pm,
LENGTH OF SHOW: 60 min, no intermission
PRICE: $15 in advance and $18 at the door
At IRT:154 Christopher st. NYC #3B (third floor)
WANDERING BARK THEATRE CO. is a New York City based group founded in 2011, dedicated to exploring and adapting classical theatre, highlighting the universality of its themes with bold and experimental productions, often incorporating live music, multi-media design, original text, and stylized physicality.
WRITTEN BY Paz Pardo
DIRECTED BY Devin Brain
CONCEIVED AND PERFORMED BY Valerie Redd
*Valerie Redd as Emma Bovary/ Gustave Flaubert/ Herself
"Redd's performance is a delight as she brings wit and irreverence to Emma, shining a light on everything that makes the character all at once extraordinary, relatable, and deeply flawed. She's a perfect fit for Pardo's razor-sharp humor, and the design team has deftly brought to life the show's penchant for time-trotting."
-Theatre is Easy
PRODUCTION STAGE MANAGER Lyndsey Barratt
LIGHTING & SOUND DESIGN Jessica Grenberg
SCENIC DESIGN Bruno-Pierre Houle
COSTUME DESIGN Christina Renee Polhemus
VIDEO DESIGN & DIRECTION Kate Eminger
CHOREOGRAPHY Brad Landers
ASSOCIATE SOUND DESIGNER Korey Lamb
ASSISTANT LIGHTING DESIGNER Sienna Gonzalez
ASSISTANT STAGE MANGER Emile Lacheny
PRODUCTION ASSISTANT Grace Heinz
JOSEPH MITCHELL PARKS (Producer)
New York Theatre credits include: Titus Andronicus (New York Shakespeare Exchange), Short Life of Trouble, The Seagull, Othello (Wandering Bark Theatre Company), Much Ado About Nothing (Secret Theatre), King Lear, Henry IV, A Midsummer Night's Dream (Shakespeare NYC), The Soldier Dreams (Theatre East). U/S National Tour of Romeo and Juliet (The Acting Company). Selected Film and Television credits include: The Sonnet Project (#115), Gossip Girl, Blood Night and North Crossing. Company member of Theatre East and Shakespeare NYC. Member AEA. Artistic Associate for The Acting Company.
VALERIE REDD (Co-Artistic Director)
With Wandering Bark: Hedda Gabler, Short Life of Trouble (NYIT Nomination), The Seagull, Othello. Other NYC credits include: Richard III (Shakespeare in the Parking Lot), Christopher Marlowe's Chloroform Dreams (Lunar Energy), Eye of God (Theatre East).
Regional Theatre credits include: All My Sons, A Midsummer Night's Dream, Metamorphoses, You Can't Take it With You (Mary Moody Northen Theatre). London Theatre: La Dispute (London Soho Theatre/ Edinburgh Fringe). Film credits: Nouvelle York, Shaking.
Writing credits: Le Bovarysme (Creator/ Writer), Othello (Adapter), Short Life of Trouble (Creator/Writer/Adapter), The Witches (Writer/Adapter). Valerie made her directorial debut with The Witches. Member AEA. Training: St. Edward's University B.A. Theatre Arts (Physical/Devised Theatre), Masters Level/ Postgraduate Classical Acting at The London Academy of Music and Dramatic Art.
PAZ PARDO, Playwright
Paz Pardo is an MFA candidate at the Michener Center for Writers at UT Austin. Plays include Movimiento Perpetuo/Perpetual Motion, which she's performed in eleven cities in three countries; Duct Tape Girl & Fetish Chick Conquer the World (BootStrap Theater Foundation, NYC); Rubber Match (RED CARAVAN, NYC); and Milton, MI (Bay Area Playwrights Festival Finalist, 2016). As a dramaturg, she's worked with the TEAM and 600 Highwaymen. Her writing has appeared in the Brooklyn Review, Encountering Ensemble (ed. John Britton) and Howlround. BA, Stanford. Fulbright Award, Buenos Aires, 2012.
IRT Theater is a grassroots laboratory for independent theater and performance in New York City, providing space and support to a new generation of artists. Tucked away in the old Archive Building in Greenwich Village,  IRT's mission is to build a community of emerging and established artists by creating a home for the development and presentation of new work. Some of the artists we have supported include Young Jean Lee, Reggie Watts and Mike Daisey.
This program is supported, in part, by public funds from the New York City Department of Cultural Affairs in Partnership with the City Council, New York State Council on the Arts, and The Nancy Quinn Fund, a project of ART-NY.
PLEASE NOTE: All sales final and there is no late seating at IRT Theater.
***IRT is a fully wheelchair-accessible facility.***