Kim Katzberg and Nora Woolley
Hip and Darkling
&nbsp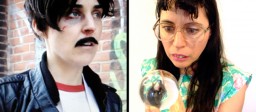 Dec. 21- Jan. 12 2014
IN RESIDENCE: December 17- January 13 2014
Darkling, written and performed by Kim Katzberg
In DARKLING, it's 1987, and thirteen-year-old Trinity is obsessed with three things: goth figurines, losing her virginity and being just like her troubled older sister. When her sister commits a daring escape from a boarding school for wayward girls, Trinity must decide whether to follow her into fantasy and madness, or remain in the affluent suburban world that drained her mother's soul. Could there be another choice? A one-girl show about growing up without giving up.
Hip, written and performed by Nora Woolley
HIP is set in the early aughts, Williamsburg, Brooklyn, ground zero for the modern hipster movement.  Wythe, a struggling musician, is convinced his songs have been co-opted by the increasingly popular buzz-band, The Strokes.  His single-minded quest for fame is diverted by three women who are also longing for their own brand of recognition. In an increasingly self-aggrandizing community, Wythe must decide what is lasting and what is simply–hip. A story for anyone who has ever wanted it so bad, they could practically fake it.
PERFORMANCES:
Dec. 21 2pm, 7pm
Dec. 22 2pm, 7pm
Jan. 3 7pm
Jan. 4 2pm, 7pm
Jan. 5 2pm
Jan. 8 8pm
Jan. 9 8pm
Jan. 10 8pm
Jan. 11 2pm, 8pm
Jan. 12 2pm
LENGTH OF SHOW: 90 minutes
PRICE:
$12.00 online
$15.00 door
At IRT: 154 Christopher st. NYC #3B (third floor)
Kim Katzberg (writer/performer) is a NYC based actor and writer. Of her breakout solo show, The New York Times wrote, "Penetrating the Space has a glowing, vulnerable, haunting center." Penetrating the Space was nominated for two 2012 NYIT Awards and ran at HERE Arts Center in repertory with Tom X. Chao's Callous Cad. Prior to that, Penetrating… was developed at Dixon Place through two engagements: as an official selection of the 2010 HOT! Festival and in a featured run as a 2010 Artist-In-Residence. Katzberg performed excerpts from her solo show Darkling in CATCH Performance Series at The Bushwick Starr. Most recently she performed a work-in-progress version of Darkling on July 5th and 6th, 2013 at IRT Theater as a 3B Development Series Artist-In-Residence. Off-Broadway productions include Alison in Richard and Anne directed by Anthony Nelson at the Arclight Theatre and Benvolio in Romeo and Juliet directed by Tony Speciale at Classic Stage Company. Katzberg holds a BFA in Theater, NYU/Experimental Theatre Wing and a MFA in Acting, Columbia University. Kim Katzberg is also a drama teacher at Brooklyn Heights Montessori School. www.kimkatzberg.com
Nora Woolley (writer/performer) is a NYC based actor and writer.  Recent Off-Broadway theatre credits include A Couple of Poor Polish-Speaking Romanians (Abrons Arts Center); Automotive (PS 122); Charlie Victor Romeo (3LD, Collective:Unconscious, touring company); A Bicycle Country (Public Theater). Regionally Nora has performed at American Repertory Theatre, Studio Theatre, the Kennedy Center and the Theatre Alliance, where she earned the Washington DC Audience Award for her portrayal of Vivian in ¾ of a Mass for St.Vivian. Nora's original work includes Selling Splitsville, directed by Raquel Cion (PS 122, Boston Women in Comedy Festival); Are We There Yet? (Singapore International Theatre Festival);Courtesy Works (HERE); "Les Petites Tristesses (The Little Sadnesses)", a series of monologues shot as short films, directed by her brother, producer George Woolley. TV: "First Cut" (NBC). Film:  "Charlie Victor Romeo" (2013 premiere Sundance Film Festival, commercial release/premiere at Film Forum, NYC, January 2014); "Chase Me" (2009 premier San Francisco Film Festival). Currently Nora is a teaching apprentice under esteemed actress/ teacher, Erica Fae at the Yale Graduate Acting program. Nora holds a Certificate in Shakespeare Performance from RADA and a BFA in Theater, NYU/Experimental Theater Wing, where she received the Studio Award for Excellence in Acting. www.norawoolley.com
Raquel Cion (director) Recent projects include: Gilding the Lonely (writer/performer)—Joe's Pub, Dixon Place; Kim Katzberg'sDarkling (director)—IRT Theater, CATCH Performance Series at the Bushwick Starr; Cou-Cou Bijoux Pour Vous(Writer/Performer)—Galapagos Art Space, Dixon Place; Lysistrata, La MaMa, Etc.; with Andrea Kleine Dance and Performance: Rationality (A Virtual Performance) and Memoir, LMCC Swing Space; Nora Woolley and Christine Witmer'sSelling Splitsville (director)—PS 122, Boston Women in Comedy Festival; Lisa Ramirez's Exit Cuckoo (associate director), The Working Theater; Art Of Memory, Company SoGoNO, 3LD Art and Technology Center; Fête (writer/performer), Midtown International Theatre Festival. Recognition for her work includes a Dramalogue Award for Charles Mee Jr.'s Orestes, as well as a Bay Area Theatre Critic's Circle Award for the interdisciplinary work Bake Sale with the Bay Area theatre company, The Fifth Floor. She received her BFA from New York University's Experimental Theater Wing, Tisch School of the Arts and holds a Master's in Library and Information Science from Queens College. Raquel performs monthly in the Obie Award winning The Secret City with The Secret City Singers. www.raquelcion.com
Media Quotes or Related Commentary:
"With Darkling Kim Katzberg has created yet another fascinating, artistic, and utterly entertaining showpiece, tailor-made for the adventurous theater goer who revels in daringly unique performances — and in this case, one that could be said to be "beyond the beyond."
–Culture Catch
"Katzberg's humor comes from a decidedly visceral place."
–-THEATERMANIA
"Penetrating the Space has a glowing, vulnerable, haunting center."
–NY TIMES (Katzberg's previous show)
"Actress Nora Woolley has a good handle on Vivian's theatricality and deceptive double thrust, delivering the character's laid-back act and subtle aggressiveness with a cunning, blissed-out grin"
–Washington Post