A series of shorts by Broken Box Mime Theater
Send in the Mimes
&nbsp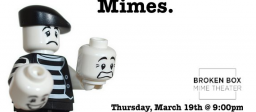 March 19 and 20 2015
"Send in the Mimes." A series of shorts by Broken Box Mime Theater.
Thursday March 19th at 9 pm, and Friday March 20th at 10 pm. $5, or FREE with admission to Manifest Destiny 
Broken Box Mime Theater (BKBX) is a collaborative group of artists who tell original stories through mime technique.  Set to lights and music, our pieces range from realistic to metaphorical, heart-wrenching to hilarious, cinematic to intimate and everything in between, held together by the belief that great theater requires little ornamentation, only great vision.  
Without the use of props, sets, costumes, or words, our stories are told only with our bodies.  It is this process of "essentializing" Story that is, ultimately, what makes our work both dynamic and compelling.  Each audience member is cast as our Final Playwright, projecting onto our white face-paint and seemingly blank stage their own memories and visions.  
As a company of 14 professional actors, we come together to make work that sustains us. Collaboration is our path, and meaningful theater is our passion.  Ultimately, our mission is threefold: to activate the imagination of our audiences, contemporize the art of mime, and remind us all of the power of simple storytelling.
At just over three years old, BKBX has gathered significant credentials: acclaimed showings at The Wild Project, Walkerspace, the Fringe Festival, The Kraine, Dixon Place, and the June Havoc Theater at Abingdon, as well as appearances at The PIT, TADA! Theater, and Amios' SHOTZ! Festival, and several short films.  BKBX also operates a widely popular series of workshops for both students and professionals in the art of Silent Storytelling, including a residency as Volunteer Artist with the 52nd Street Project Teen Ensemble, leading a 4-week movement unit last fall.
Most recently, BKBX's production, "At First Sight (and Other Stories)" was awarded the 2014 New York Innovative Theater Award for Outstanding Ensemble . Their newest work titled "Above Below" will run for two nights only,May 6th and 7th, at 8:00pm at The Green Building in Gowanus. Check out www.BrokenBoxMime.com for info!
***
 "Physically specific, bold in their choices, dynamic, compelling, and frankly very attractive… A wonderful ensemble, they're effortlessly tuned to each other." – Edward Elefterion, NYTheatre.com