Frances Black Projects
Manifest Destiny
&nbsp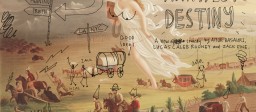 March 5-22 2015
IN RESIDENCE:March 3-23, 2015
Have you ever wanted to be a better person? Or perhaps more kind and honest? Sensitive, courageous and creative? Or are you ashamed of what your life has become and want more meaning? Lucas Caleb Rooney and Zack Fine – actors, artists and humanitarians – wanted those things once too, and so they went out and found the answers. They're going to share the answers with you. So don't wait any longer. Come grab fate by the balls. No guts no glory. No retreat no surrender. No Carpe no Diem.
PERFORMANCES:
March 5 – Preview 7pm
March 6 – Preview 8pm
March 7 – Opening Night 8pm
March 9,12,16,19 Performance 7pm
March 13,14,15,20,21,22 Performance 8pm
LENGTH OF SHOW:60-90 minutes
PRICE:$18 tickets
At IRT:154 Christopher st. NYC #3B (third floor)
A new comedy by Aitor Basauri, Lucas Caleb Rooney and Zack Fine
Performed by Lucas Caleb Rooney* and Zack Fine*
Directed by Aitor Basauri
Choreography by Caroline Fermin
Puppets by Annie Worden
Frances Black Projects, established in 2009, produces small, spirited and unconventional theatrical experiences in New York City. Primarily, we nurture, encourage and produce theatrical artists who are playing in the world of comedy, clown and commedia dell'arte and who are challenging the relationship between audiences and performers. We also create theatrical events that bring people together to celebrate shared interests such as an annual Canada Day in NYC event. And the company is available for hire for project specific theatre management and event services. Clients include TDF, 52nd Street Project and Ice Theatre of New York. We believe love, laughter and offline human connection can heal the world, one heart and one experience at a time and we work to that end in all activities. New York theatre credits include: Commedia dell'Artichoke (currently running, Artichoke Basille's Pizza); Standards under the Stars (2014, Mariner III); Becoming Liv Ullman a comedy by Crystal Finn (2013, Artichoke Basille's Pizza); Walled In, a comedy with clown by Zack Fine (2011, IRT Theatre); Co-producer on A Life in the Theatre by David Mamet (2010, Broadway); Even Maybe Tammy, a commedia dell'arte by Christopher Bayes & Company (2009, The Flea). Frances Anne Strauss is the founder and lead producer. Frances served as the Director of Programs at A.R.T./New York from 2009-2014, was the Associate Managing Director at Yale Repertory Theatre & Yale Cabaret and is currently on the board of Ice Theatre of New York, the resource board of CAP21 and the Strategy Committee of Prototype Festival. A Toronto native, Frances has a B.A in Theatre Studies from University of King's College and an M.F.A in Theatre Management from Yale School of Drama. www.francesblackprojects.com
Zachary Fine (Writer & Performer)Off-Broadway: Two Gentlemen of Verona, Spring 2015 (Theater for a New Audience/Fiasco Theater); Julius Caesar (The Acting Company); The Seagull (New York Classical Theatre); A People (Terranova Collective); Walled In, a clown show based on Henry David Thoreau's Walden, creator/performer (IRT Theater); All Day Suckers (New Feet Productions); Two Noble Kinsmen (Guerrilla Shakespeare Project). Regional: theaters include Folger Theatre, Guthrie Theater, Asolo Theatre Company, Franklin Stage, Fulton Opera House, Great River Shakespeare Festival (2 seasons), Colorado Shakespeare Festival, Clarence Brown Theatre Company, Off-Square Theatre Company. Television and Film: Person of Interest, Blackbox, Heartland, One Life to Live, A Midsummer Night's Dream (NewBookPress), Z-Rock. Teacher of Clown and Games, Department of Dramatic Art/Professional Actor Training Program, UNC-Chapel Hill; Florida State University/Asolo Conservatory; University of Tennessee; resident artist and teacher at IRT Theater (NYC). Training: BA, Oberlin College; MFA, University of Tennessee ; Ecole Philippe Gaulier; My Funny School of Good Acting (Christopher Bayes).
AITOR BASAURI (writer & director) was born in Bilbao, Spain. For the past 20 years he has been teaching and performing clown all over the world. He is one of the most sought-after clown teachers in the world, regularly holding sold-out master classes in London and New York. Aitor has been staff tutor at École Philippe Gaulier Paris; taught for Cirque du Soleil/Cirque du Monde Foundation, New York Clown Theatre Festival, Celebration Barn Maine, and at universities, institutes, and festivals to students, professionals and clown doctors all over the world including Madrid, Berlin, Damascus, and Taipei. He is also a co-founder and performer in the internationally renowned clown company, SPYMONKEY. His teachers include Phiippe Gaulier, Cal McCrystal and Pierre Byland.
LUCAS CALEB ROONEY (Performer) -Broadway: Golden Boy, The Country Girl, HENRY IV. Off-Broadway: Regrets (MTC); Much Ado, Measure for Measure, YellowFace (Public Theater); Orphan's Home Cycle (Signature); Regional: Death of a Salesman, God of Carnage, All My Sons, Twelfth Night (Old Globe); Midsummer Nights Dream (LaJolla Playhouse/ Hartford Stage). Film & TV: Magic of Belle Isle, On Broadway, One Last Thing, "Boardwalk Empire," "Person of Interest," "Cold Case," "CSI:Miami," "Journeyman," "Law & Order," "Kidnapped. Education. Co-founder of an NGO that creates theatre and promotes education with the children of Madagascar; www.zaraaina.org
Equity approved showcase.
*these Actors are appearing courtesy of Actors' Equity Association.
Subsidized studio space provided by the A.R.T./New York Creative Space Grant, supported by the Andrew W. Mellon Foundation.
Manifest Destiny was produced, in part, through Kori Rushton and the IRT 3B Development Series (irttheater.org).