Support IRT
&nbsp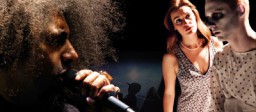 IRT Theater is a not-for-profit theater company and relies on tax-deductible contributions to support its productions, artistic development and education programs. Your donation is a direct investment in our future and the future of so many artists and their work. There are many ways to contribute.
Checks Via Mail Made To: IRT Theater/154 Christopher St., 3B/New York, NY  10014
Matching Gifts
Many companies or foundations will match gifts their employees make to non-profit organizations. You can double or triple your gift to IRT by using your company's matching gift program. Many of these programs also offer a matching grant for time spent volunteering with a non-profit. Check with your employer to see if they have a matching program.
Major Donors
For more information on how to become a major donor, please call 212.206.6875.
Volunteer
Contact volunteer@irttheater.org
We thank you in advance for your support.
This program is supported, in part, by public funds from the New York City Department of Cultural Affairs in Partnership with the City Council, New York State Council on the Arts, and The Nancy Quinn Fund, a project of ART-NY.