A Workshop With Celebrated Playwright Crystal Skillman
&nbsp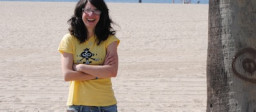 March 18th, 7-10pm
Get WILD with Your New Play!
Skillman's newest play, WILD, premieres March 13th, 2014 with Sanguine Theatre Company at IRT Theater.
Feel cooped up writing in your little room? Stuck in development mode? Losing steam or passion? Looking for inspiration? Leave the real world behind and dive into a three-hour writing workshop vacation of you! Come in with an idea or discover a new one with WILD playwright Crystal Skillman!  With a focus on creating plays that speak to audiences today, Crystal uses her own wild, unique writing exercises to get your juices flowing. Our focus will be on using your creativity to tackle outstanding structural issues, making sure you're truely capturing the perspective and language of your characters, and making the most active but creative choices in your scenes, to ensure you're creating an explosive, theatrical play. Get ready to dive head-first into your new play or go deeper into the play you're already working on.  Join us! We'd love to have you! Affordable for all and a time of awesome is guaranteed! AND every cent of your small class fee goes directly to the production of Wild – supporting Sanguine Theatre Company and IRT. Support new plays and come create your own!
THE FACTS:
March 18th, 7-10pm
IRT Theater, 154 Christopher St, NYC
Cost: $50
Wine, Coffee, and Snacks Provided!
To reserve your spot, email Sanguine Theatre Company at: info@sanguinenyc.com with the subject line "Skillman Class"!
CRYSTAL SKILLMAN is an award winning playwright. She is the author of GEEK produced last spring by Obie Award Winning Vampire Cowboys, earning a 2013 NY Times and TONY Critics Pick. Her play CUT,  A NY Times Critics Pick, debuted with The Management in NY as well as the Apollinaire Theatre in Boston. THE VIGIL or THE GUIDED CRADLE was produced by ITG at The Brick Theater winning the 2010 New York Innovative Theatre Award for Outstanding Full-Length Script. Crystal was named one of Manhattan "Best Ofs" for OurTownNY magazine and selected as one of nytheatre.com's fifteen People of the Year for 2011. She is a member of the MCC Theater Playwrights' Coalition, Rising Phoenix Rep, as well as an alumni member of the Women's Project. Crystal's plays are available from Samuel French and indietheaternow.com. She is an accomplished teacher of playwriting having taught/mentored at the Samuel French Institute, Playwrights Horizons Theater School, TDF, and Young Playwrights, Inc.
"Wild is boldly honest about the (at times absurd) nature of life and the human experience."
– Rob Underwood, NewCity Chicago
"Wild is quite funny, honest, sexy and entertaining."
–ChicagoCritic
"Birthday is a romantic comedy, sort of; it's a lovely, sweet play of connection and camaraderie. Skillman picks up details of the trappings of our lives and makes them sing resonantly."
– NYTheatre.com
"The real star [in Cut] is the script, bristling with vitality in a compact 90 minutes. A playwright of growing downtown renown, Ms. Skillman seems to be acquiring something suspiciously Midtown: polish."
– The New York Times