Underbelly's Cartoon Mashup
&nbsp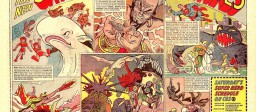 April 3, 2010
COME PARTY WITH US AND HELP SUPPORT DWELLICLE 109 AND IRT'S 3B DEVELOPMENT SERIES!!!
UNDERBELLY'S CARTOON MASHUP
Saturday Morning Fun with Saturday Night Values
APRIL 3rd at IRT
154 Christopher St, Buzzer #3B
Doors open at 7pm
$15 gets you in the door with a free drink!
A Variety Show featuring clowns, ukuleles, a house band, The Moon, a world-renowned experimental comedian so famous we can't tell you his name, and Underbelly performing hilarious sonic interpretations of your favorite Saturday morning cartoons.
FEATURING:
– Clown antics from Jeff Seal & Chris Manley
– Sonic Interpretations of He-Man by Underbelly
– Custom Made Cartoon Comedy by Nat Towsen
– A new Bouffon character from Patrick Donnelly
– Original Ukulele Songs by Socks & Chimes
– Covers of Cartoon Theme Songs by Jess Smith & Gabriel Baron
– Saturday Morning Cartoon Trivia with prizes!
…and a sneak preview of Dwellicle 109
…AND…An Extra Special Mystery Guest
Come for the funnies, the party, the drinks, the cartoon trivia, and the mini boxes of cereal!! And, yes, there will be a raffle. In fact, tickets are now available online!! Click here for details: http://underbellytheater.com/Underbellytheater.com/Raffle_Tickets.html
COME! and while you're at TELL YOUR FRIENDS!!
All proceeds will benefit the development of Underbelly's new play, Dwellicle 109, and IRT's 3B Development Series.