Gary Wellbrock/ Kori Rushton
Broadway Books Upper Class
&nbsp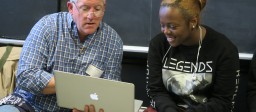 September 2016 -June 2017
FIRST GRADE TEACHER DR. GARY WELLBROCK CREATED BROADWAY BOOKS FIRST CLASS. WE ARE NOW EXPANDING IT TO STUDENTS GRADES 6-12 AT BROOKLYN SCHOOL FOR COLLABORATIVE STUDIES.
GUEST ARTISTS:
Gregory Jbara
JW Guido
PROGRAM GOALS:
CELEBRATE THE RICH CULTURAL OFFERINGS OF NYC

PROMOTE LITERACY AND THE ARTS

FOSTER AN ENVIRONMENT OF SHARING ACROSS EDUCATIONAL AND CULTURAL COMMUNITIES


PROVIDE CHILDREN WITH INSPIRING ROLE MODELS


EXPLORE AND CULTIVATE TOPICS SURROUNDING DIVERSITY & ACCEPTANCE, PERSISTENCE & SELF-CONFIDENCE, COOPERATION & TEAMWORK AND THE PURSUIT OF DREAMS


SEND A MESSAGE TO KIDS THAT THEY ARE LOVED AND IMPORTANT 
THE PROGRAM NOT ONLY INVITES BROADWAY PERFORMERS TO COME, READ, AND DISCUSS THEIR CAREERS, IT IS ALSO A TOTAL TECHNOLOGY AND ARTS AWARENESS PROGRAM.  
EACH PERFORMER IS DISCUSSED BEFORE THE VISIT TO PREPARE THE STUDENTS AND AFTERWARDS STUDENTS ARE INVITED TO WRITE ABOUT THE EXPERIENCE. IN ADDITION, STUDENTS WRITE THANK YOU CARDS TO THE GENEROUS PERFORMERS.