Ricochet Collective
Gordy Crashes
&nbsp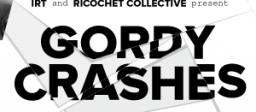 June 5-27 2015
IN RESIDENCE: June 2-29 2015

Gordy is having a bad week. Superstorm Sandy has driven him out of his apartment and into a dizzying blur of other people's couches, bad takeout, alcohol binges, boredom, stories of horrible destruction in the Rockaways, and aimless wandering between Manhattan and Brooklyn which all lands him, delirious and sleep-deprived, on the doorstep of his estranged ex-girlfriend, Mere. Over the next three days, Gordy will see the true extent of the storm's devastation as his declining mental state steers him into a head-on collision with his own fear and anxiety.

PERFORMANCES:
Previews: June 5, 6, 8, 9, 10, 11
Performances: June 12 (opening), 13, 15, 18, 19, 20, 22, 25, 26, 27
TIME: 7pm
LENGTH OF SHOW:90 minutes, no intermission
PRICE: $18.00
At IRT:154 Christopher st. NYC #3B (third floor)
SAM BYRON (Playwright) Plays include Standard Aptitude (Semifinalist, Eugene O'Neill New Play Conference 2015), Gordy Crashes (finalist, 2014 Stanley Drama Award), Animals (Wide Eyed Productions, winner of the Fringe NYC award for Overall Excellence in Directing, Kristin Skye Hoffmann), Brooklyn Vacancies (finalist, New Works Program at T. Schreiber Studio, New York City), Static (finalist, HotCity Theater's Greenhouse Festival, St. Louis), and Debt (Horse Trade Theater, New York City, and Dillingham Center for Performing Arts, Ithaca, NY). He was the Resident Playwright for Wide Eyed Productions' 2013-2014 season and a recipient of the 2012 Steinberg New Playwrights Fellowship. He is currently the 2015 Harold Clurman Playwright-in-Residence at the Stella Adler Studio in New York. Member, Dramatists Guild of America. MFA, The New School for Drama. www.sambyron.com
SHERRI EDEN BARBER (Director) is a New York-based theatre director and Artistic Associate at Rattlestick Theater. Recent credits: Mr. Landing Takes A Fall (The Flea), Herman Kline's Midlife Crisis (The Beckett), 24 Hour Plays (American Airlines Theatre), Inadmissible (Canal Park Playhouse), Latrell: Live Tonight! (Joe's Pub), Bent (New School for Drama), Remission and Happily After Ever (Signature Theatre/Columbia), Moonlight on the Bayou and Pump (Frederick Lowe Theatre/Hunter College), Carthaginians and Angels in America, Perestroika (Stella Adler Conservatory/NYU), Tapefaces (Ars Nova/ANTFest), Dance Lessons (Theatre Row, winner of the Samuel French Short Play Festival), Empire of the Trees (Abingdon Theatre), References To Salvador Dali Make Me Hot (Hangar Theatre), Only You Can Prevent Wildfires (Culture Project), How To Quit Smoking and Baptism (Atlantic). She has developed new work with Rattlestick, Orchard Project, New York Theatre Workshop, Harlem Stage, Classic Theatre of Harlem, Primary Stages, Flea Theater, Culture Project, 24 Hour Play Company, and Old Vic. Sherri is a Drama League Directing Fellow, recipient of the US/UK Exchange Award, and co-founder/Artistic Director of Ricochet Collective. MFA: The New School for Drama. www.SherriEdenBarber.com
DAVE KLASKO (Gordy) Theatre: King Lear (Public/Shakespeare in the Park), Much Ado About Nothing (CSC Young Company), Hamlet, Comedy of Errors (Hudson Valley Shakespeare Festival), La Ronde, A Midsummer Night's Dream (Columbia Stages / Essen, Germany). Film: Child Eater. MFA: Columbia University.
JODY FLADER* (Mere) starred in the The Vineyard Theatre's The Slug Bearers of Kayrol Island (GinGin). Other favorite theater roles include Molly in Love Song (Marin Theatre Company), Masha in Three Sisters (Glass Bandits), and Elsie De Wolfe in The Bachelors' Tea Party (Stolen Chair Theatre Company). TV/Film: "Gossip Girl," "Law & Order," various short films and national television commercials. As a singer, Jody has performed with acclaimed 5-person jazz vocal ensemble West Side 5, and the indie band Blue Bottle Collection. B.A., Harvard University; M.F.A., American Conservatory Theater. www.jodyflader.com
RUFFIN PRENTISS (Job) IRT Debut! Excited to be working with this wonderful cast.  Recent theater credits include: Autumn's Harvest (Lincoln Center Education), Fences (People's Light and Theatre), Measure for Measure (Epic Theatre Ensemble), Fati's Last Dance (Billie Holiday Theatre), Twelfth Night (Allentown Shakes), White Lillies (Crossroads Theatre Company), Time Sensitive (Guthrie Theater). Television credits include: "Power," "The Mysteries of Laura," and "Madam Secretary." Education: BA in Theater Arts from the University of Pittsburgh, MFA from Rutgers University.
KATE NOLL (Set Designer) Recent credits: Accidental Death of an Anarchist (Yale Rep/Berkeley Rep), The Fatal Eggs and Ermintrude and Esmeralda, both remounted in New York from their original productions at the Yale Cabaret. She designed the set for Cloud Nine and the costumes for House Beast at the Yale School of Drama, as well as various shows at the Yale Cabaret (2011-2014). Resident Set Designer: Yale Summer Cabaret (2013) and Sundance Directors Lab (2009). Kate has also practiced as a studio artist, stylist, and production designer for television and film. MFA, Yale. BFA in Painting from the Rhode Island School of Design.
SERENA WONG (Lighting Designer) is a Brooklyn-based freelance lighting designer for theater and dance. Her designs have been seen at New York Live Arts, Irondale Arts Center, the New Ohio Theater, and the Brick Theater. She is the resident lighting designer for New York Theatre Ballet. She is a wild fermentation enthusiast.
MARK VAN HARE (Composer and Sound Designer) Recent credits: Icarus (The Dramat, University Theatre), In Fields Where They Lay (New Ohio Theatre), Remission (Ford Studio, Signature Theatre), Daniel Fish's Eternal (Incubator Arts Project), All God's Chillun Got Wings (JACK), Look Upon Our Lowliness (Harlem School of the Arts Theatre), and Tar Baby (DR2 Theatre). Mark is a member of Ricochet Collective. markvanhare.com
PAUL PIEKARZ (Projection Designer) is an up-and-coming video designer. Recent work includes Loneliness of the Long Distance Runner (Atlantic Theater Company), Facing Our Truth (National Black Theater), The Irresistible (Immersive Gallery), Old Paper Houses (Piehole), Asymptote to Zero Gravity and Perchance to Dream (Mich-Mash Productions).
JACOB GRIGOLIA-ROSENBAUM (Fight Choreographer) has worked with Sherri Barber previously on Mr. Landing Takes a Fall and Tapefaces: Legend of a Kung-Fu Master. Broadway: Peter and the Starcatcher, Bloody Bloody Andrew Jackson, Cyrano de Bergerac, On the Twentieth Century. Other credits include: Peter Pan Live (NBC/Universal), Here Lies Love (Public), Sailor Man (also co-creator, New York International Fringe Festival, winner of Best Play) and The Buccaneer (also playwright, The Tank, Fight Fest), Dark Was the Night (Caliber/Image). When not making art out of violence, he can be found living in Brooklyn with his wife and sons.
JOSEPH PINDELSKI (Dramaturg) is a Chicago-based dramaturg and is very pleased to work with Sherri and everyone involved with Gordy Crashes. Chicago credits: Venus in Fur, Other Desert Cities (Goodman), The Sweeter Option, Neighborhood 3: Requisition of Doom (Strawdog), The Drowning Girls (Signal Ensemble), and The Glass Menagerie (Steppenwolf – Next Up 2012). He has worked with American Repertory Theater, NYU-Tisch School for the Arts, Inverse Theatre Company, and Harvard University. Joe earned his MFA in dramaturgy and theater studies from American Repertory Theater/Moscow Art Theatre School Institute for Advanced Theater Training at Harvard University and BA from Catholic University of America.
P. TYLER BRITT (Stage Manager) is a theater practitioner (director, actor, dancer/choreographer, singer, stage manager) and teaching artist. He is a graduate with a BA in Theater from Hunter College where he was the recipient of a Robert LoBianco Scholarship for Theater & Tyrone Guthrie Award for directing. Tyler is a member of Ricochet Collective.
GAGE STEENHAGEN (Technical Director, Assistant Director) grew up in Iowa and recently moved to New York City to become a starving artist. He has previously interned at Second Stage Theatre, worked on productions throughout New York, and assisted Sherri on two productions of Latrell Live Tonight! at Joe's Pub. Gage is a member of Ricochet Collective.
JULIAN LEON (Website and Graphics Designer)
SARI CAINE (Associate Producer)
DAVID RIGO (Associate Producer)
STEPHANIE LEVIN (Costume Designer) Select Recent: Red Flamboyant (Firebone, Cavalry St George), Midsummer… (Stages on the Sound), Mother Jones… (NYMF), <50% (NYC Fringe Encores), Deepest Man (3LD), Too Many Lenas (Carroll Simmons, ANTFest 2014, Ice Factory 2014), OLÉ (TiA, Prague Fringe), Once Upon a Bride, Jane the Plain, Hearts Like Fists, DEINDE (Flux), Latrell Live Tonight! (Joe's Pub), Death For Sydney Black, Animals Commit Suicide (terraNOVA), (un)Real (Reckless), White Hot (Flea); Oy Vey (Theater Row). Stephanie has assisted William Ivey Long on It Shoulda Been You (Bway), Little Dancer (JFKC), CABARET (Bway), and Big Fish (Bway). Upcoming: Dark at the Top of the Stairs (Strasberg). designedbylevin.com
CAROLINA ARBOLEDA (Assistant Stage Manager) received her BA in Arts and Sciences from Hunter College. She is the recipient of the Robert LoBianco Award for Stage Management and the Friars Foundation Scholarship. Most recently she worked as Production Stage Manager on Marla and her Prayers (New Perspective Theatre), The Pillowman (FITR Productions), City Non-Specific (La Micro Theater, FringeNYC), KEEPINGABREAST (Manhattan Theatre Mission, FringeNYC) and Bending All The Rules (Midtown International Theatre Festival.). She is delighted to be collaborating with Ricochet Collective's production of Gordy Crashes.
CHRISTINE MCKENNA (Casting Director) is a freelance casting director based in New York City. Current projects: "Under Her Skin" (Nine Lives Productions/Triboro) and a number of independent theater, web-series and film projects. Christine established CMcKenna Casting in 2011 to be part of creating the type of intelligent, character driven, well acted, passionate independent projects that make films and television worth watching. Christine studied at the American Academy of Dramatic Arts.
BRANDON PAPE (Producer) NYC: Mr. Landing Takes A Fall (Slightly Altered States), Latrell Live Tonight! (Ars Nova, Dixon Place, Joe's Pub). Chicago: Make Me Love You: an evolution of love, Look Back In Anger, and The Shape of Things (The Verge Theatre Company). Brandon is a Drama League Directing Fellow, and co-founder and Executive Director of Ricochet Collective. www.RicochetCollective.com @midwestrunaway
IRT Theater is a grassroots laboratory for independent theater and performance in New York City, providing space and support to a new generation of artists. Tucked away in the old Archive Building in Greenwich Village, IRT's mission is to build a community of emerging and established artists by creating a home for the development and presentation of new work. Some of the artists we have supported include Young Jean Lee, Reggie Watts, Mike Daisey, New York Live Arts, terraNOVA Collective, Immediate Medium, The Nonsense Company/Rick Burkhardt, CollaborationTown, Rady&Bloom,Thomas Bradshaw, Crystal Skillman,Tommy Smith, May Adrales, Katt Lissard, Erica Fay and many others. For info visit www.irttheater.org. This program is supported, in part, by public funds from the New York City Department of Cultural Affairs, Office of Councilmember Corey Johnson and The Nancy Quinn Fund, a project of the Alliance of Resident Theatres/New York(A.R.T./New York)