Michael Severance
THE FUGITIVE-Art Opening
&nbsp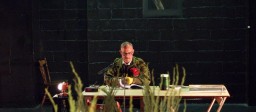 July 24—26 2013
IN RESIDENCE: July 22—26, 2013
The Fugitive is a consideration of the current landscape of American culture viewed as an interspecies relationship—one that jumps to "significant otherness" as quickly as the disaffection rate alarmingly grows and divisions across aisles mean perpetual political stagnation. What is needed are jobs in an economy that can support survival. What may be happening is: ideological choices forcing people into the metaphor of the escapee—the victim—the becoming feral. How does reconciliation of the intransigent, the fleeting and the ephemeral begin in the surfaces of an uneasy narrative dealing with the perceived fictions and realities across American history, majority, and the national autobiography?
ART OPENING
Wednesday July 24—Friday July 26, 2013. 7pm—10pm
Free
Michael Severance is an artist, originally from California now living and working in New York City. His credits are numerous and span a career in visual art and theater. He has won awards in San Diego for his work on the theatrical productions–most notable a retelling of Wagner's Ring Cycle at Sledgehammer Theater called Berzerkergang. His installation work has been shown in Chelsea and Art Basel in Miami and he has also worked with such art world illuminaries as Ann Hamilton, Alice Aycock, Tim Rollins,  Heather and Eric ChanSchatz, and David A. Ross director emeritus at the Whitney Museum of American Art. He is expected to receive his MFA in Art Practice this August 2013.