ROBERT HICKERSON
Target Audience
&nbsp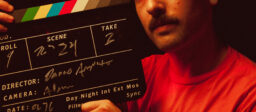 January 13 2023
IN RESIDENCE: January 13 2023
IRT Theater and Siena Rafter are pleased to present an open studio and reception for Robert Hickeson and Curtis Welteroth, featuring "Target Audience", a new video work by Hickerson with live music by Anders Nils and arid tear, and an installation of works-on-paper by Welteroth. 
"Target Audience" imagines an advertising agency run by vampires who specialize in the kinds of targeted ads that we are bombarded with every day. The project centers on a live scored and live edited video, which will be created for the first time at IRT. Welteroth's works-on-paper installation surveys an evolution of their preparatory practice on paper over the last 5 years.
PERFORMANCES: January 13, 2023
TIMES: 7:00
RUNTIME: 2 hrs
PRICE: FREE
MASKS REQUIRED
ARTIST BIO
Robert Hickerson (b. New Haven, Connecticut) is a Brooklyn based artist working in photography, video, performance, and installation. Hickerson's work uses the iconography of horror films to explore and play with the notion of the monstrous queer. Through working with his family, and together working across mediums, he orchestrates narratives that expand upon contemporary concerns surrounding queer identity, and the impact of culture on the self. 
Hickerson's solo shows include Spreading Lights (Vox Populi Gallery, Philadelphia), The Mother of Sighs (Ortega y Gasset Projects, Brooklyn), Backyard Stud (Synesthesia Gallery, Brooklyn), Antigone curated by Ann Liv Young (Brooklyn, NY), and JOAN (AMO Studios, New York, NY). His work has also been included in various group shows internationally including Group (Red Thrush Gallery, Çesme, Turkey), Narrative Photography (Downtown Arts Collective, Orlando, FL), On Death curated by Jon Feinstein (online), When Darkness Loves Us curated by Kelsey and Rémy Bennett (Spring/Break Art Fair, New York City). Hickerson's work has been published in TIME Magazine, The New Yorker, Musée Magazine, VICE Magazine, Refinery29, Pix, and Game Boy Magazine. He has also created album artwork for several bands including, Mr. HE, Plague Vendor, Fever Joy, and guccihighwaters, as well as music videos for Sun Abduction and Plague Vendor. He is five foot, ten inches, and an aquarius, rising leo, moon gemini.
Hickerson is a 2022-23 recipient of the Franklin Furnace Fund, an annual grant founded in 1976 that is awarded to artists working in traditionally unsupported mediums.
IRT Theater is a grassroots laboratory for independent theater and performance in New York City, providing space and support to a new generation of artists. Tucked away in the old Archive Building in Greenwich Village,  IRT's mission is to build a community of emerging and established artists by creating a home for the development and presentation of new work.
This program is supported, in part, by public funds from the New York City Department of Cultural Affairs in Partnership with the City Council, New York State Council on the Arts, A.R.T./New York's NYC Small Theatres Fund made possible with support from the Howard Gilman Foundation.
"Target Audience" was made possible in part by the Franklin Furnace FUND 2022-23, supported by Jerome Foundation, the New York City Department of Cultural Affairs in partnership with the City Council, Silicon Valley Community Foundation, and the friends and members of Franklin Furnace Archive, Inc.
PLEASE NOTE: All sales final and there is no late seating at IRT Theater.
ACCESS: ***IRT is a fully wheelchair-accessible facility. Please reach out to Kori Rushton if you have any accessibility questions or concerns, krushton@irttheater.org ***