Kaitlin Colombo
HUNG Over
&nbsp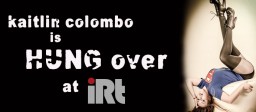 January 2 2016
IN RESIDENCE: January 2 2016
Comedian Kaitlin Colombo (Last Comic Standing, salve MTV, check E!) helps you through your holiday hangover with a night of raunchy stand up comedy and some special comedy guests. A benefit for IRT.
PERFORMANCES: Saturday, January 2nd, 2016
TIME: 9pm
LENGTH OF SHOW:90 mins
PRICE: FREE
At IRT:154 Christopher st. NYC #3B (third floor)
A stand up comedian since the age of 13, Kaitlin Colombo has been seen on NBC's "Last Comic Standing" (winner, Week #1 Online Fan Favorite) and MTV's "The Reality Show".  She provides snarky commentary for E! Entertainment Television and has been featured on "The Maury Povitch Show" (fulfilling her high school guidance councilor's prediction of her future — just not in the way he thought she would).  At 17, she sold a television pilot based on her stand up to FOX — so she stopped showing up to class and, to this day, holds her high school's record for "Worst Attendance By Student Who Isn't On Maternity Leave". The daughter of a Gay man and a Lesbian, Kaitlin is a tireless advocate for LGBT causes.  She tours colleges and clubs across the country, has headlined Gay Pride Festivals in LA and NYC and, later this year, her comedy/music/burlesque extravaganza "Glitoris" will debut in Los Angeles before touring nationally in 2016 (proceeds from the tour will go towards local LGBT charities).
IRT Theater is a grassroots laboratory for independent theater and performance in New York City, providing space and support to a new generation of artists. Tucked away in the old Archive Building in Greenwich Village, IRT's mission is to build a community of emerging and established artists by creating a home for the development and presentation of new work. Some of the artists we have supported include Young Jean Lee, Reggie Watts and Mike Daisey.
This program is supported, in part, by public funds from the New York City Department of Cultural Affairs, Office of Council Member Corey Johnson and The Nancy Quinn Fund, a project of ART-NY.