Jade Bryan, Producer of Jade Films Acting School
BlackBox MonologueSlam Actor's Show Case
&nbsp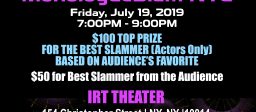 July 19, 2019
ASL Creative | Events/Workshops
Actor's Showcase MonologueSlam NYC
$100 TOP PRIZE
For the best slammer based on the audience favorite
PERFORMANCES: Friday July 19, 2019
TIME: 7-9pm
LENGTH OF SHOW: 2 hours, including intermission
PRICE: $25 by July 15, $30 at the door
At IRT:154 Christopher st. NYC #3B (third floor)
Reception will be provided.
CashApp: $QueenJade77 or www.paypal.me/jadefilms
What is the purpose of an acting showcase? Simple answer. It's for actors to perform their best work playing parts close to their heart. And to do all this in front of an audience. Sometimes agents, managers, producers, directors or casting directors sit in the audience. You just never know. You as an actor can invite them.
The goal for the Actor's Showcase is to be used as a platform for our acting students and emerging talents to showcase their best work. In addition, to attract and increase new potential students to sign up for the Jade Films Acting School (JFAS) classes. If you're also a writer, we welcome you to submit your written work from 3-5 minutes.