Eugene Ma
A WEEKEND OF CLOWN WORKSHOP with Eugene Ma
&nbsp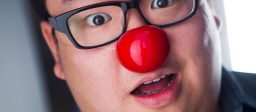 October 28-29 2017
Dive into the funny skillet for a weekend
Let's soften our brains, open up our hearts and shake up our bodies! This ten-hour workshop starts with precursor exercises to the pursuit of our uniquely individual clowns down the road, as we necessarily welcome a sense of play and imagination back into our work. We will attempt to begin melting that top layer of the iceberg that is your socially-conditioned selves. We will invite your generous openness, ferocious abandon, insistent honesty and gleeful mischief to make a larger footprint in your presence on stage. Perhaps you will sweat. Perhaps you will make songs. Perhaps you will listen deeper and harder. Perhaps you will release some glorious ha-ha's and emotional wa-wa's (amidst other weird sounds and sensations) into the ether. Perhaps this all will be silly. Perhaps this requires you to breathe and believe. Perhaps you will make something disastrous and messy. Perhaps you will make something wonderful and surprising. Though hopefully you can reignite a teeny-weeny sparkly inkling to lead from the bravery, integrity and generosity of your child within once again!?

DATES/TIME:
Saturday, October 28th and Sunday, October 29th 12pm-5pm.
Total 10 hours.
PRICE:$150 for the 10-hour workshop class.
Early Bird Discount before October 20th: $120 (use code: earlybirdie)
At IRT:154 Christopher st. NYC #3B (third floor)
If you have any questions about the clown workshop, please email Instructor Eugene Ma at concisehistorybyyan@gmail.com.
All proceeds from this clown workshop will support the FREE staged reading of A CONCISE HISTORY OF FUTURE CHINA written by Pat To Yan, directed and developed by Eugene Ma on Monday, October 30th at 7pm at IRT Theater. Please visit A CONCISE HISTORY OF FUTURE CHINA  for more information.
ALL LEVELS WELCOME! Eugene will customize the "main course" based on experiences, needs and interests of individual participants.
Oh! Wear comfortable clothing and bring a water bottle! And a sense of adventure! Plus a giant side of enthusiasm please. Whee~!
ABOUT THE INTRUCTOR
Eugene Ma is a Drama Desk-nominated, New York-based theater-maker who directs, acts, composes and teaches internationally.
Deeply inspired by the clown's uncensored spontaneity, vulnerability, and its profound impact on the actor's presence and emotional availability as well as the prerequisite of total psucho-physical transformation in Commedia dell'Arte, Ma completed a two-year teaching apprenticeship with Christopher Bayes, serving as his teaching assistant and music director at the Yale School of Drama and the Juilliard School; and has studied with "OG" Le Coq clown teacher, Pierre Byland, in Switzerland. Currently Adjunct Assistant Professor at Columbia University's Graduate Acting Program, he was most recently Lecturer of Acting at SUNY Purchase and has guest taught at Hong Kong Academy of Performing Arts, Yale College, Fordham University, NYU and PPAS.
More Acting and Directing Credits Available Here: https://arts.columbia.edu/profiles/eugene-ma
IRT Theater is a grassroots laboratory for independent theater and performance in New York City, providing space and support to a new generation of artists. Tucked away in the old Archive Building in Greenwich Village,  IRT's mission is to build a community of emerging and established artists by creating a home for the development and presentation of new work. Some of the artists we have supported include Young Jean Lee, Reggie Watts and Mike Daisey.
This program is supported, in part, by public funds from the New York City Department of Cultural Affairs, New York State Council on the Arts, and The Nancy Quinn Fund, a project of ART-NY.
PLEASE NOTE: All sales final and there is no late seating at IRT Theater.
***IRT is a fully wheelchair-accessible facility.***