The New Collectives
Daily Developments
&nbsp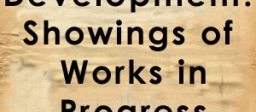 April 28-May 12 2019
IN RESIDENCE: April 16 – May 13, 2019

Public showings of three works in progress by Ben Lewis, The Coldharts, and Rachel Dart.
PERFORMANCES:
Sunday, April 28th @ 7p; Sunday, May 5th @ 7p; Saturday, May 11th @ 2p
PRICE: $10
At IRT:154 Christopher st. NYC #3B (third floor)
Sunday, April 28th @ 7p
SOUR DOUGH
The Attempted Unionization of the Bison City Bread-O-Rama
A new play with songs by Ben Lewis
Featuring the members of BREAD Arts Collective
Monica Axlrod, a disgruntled NYC stormbird of the working class, returns to her midwestern roots under the guise of a supermarket worker, hoping to unionize the local chain on the eve of its takeover by a vast global empire.
Ben Lewis is a writer, director, actor and teaching artist. He is a founding member of BREAD Arts Collective. With BREAD Arts, Ben has directed and acted in Waiting for Lefty, co-wrote and acted in The Great American Casket Company at Greenwood Cemetery, and adapted and acted in Rise and Fall. His play Lonesome Devil was produced at Could City in Brooklyn with many BREAD members. His plays have also been produced at The Players Theater, Access Theater, The Red Room, Triskellion Arts, and The Time Square Arts Center, as well as fringe festivals in New York, Los Angeles and Minneapolis. Ben's play Wolfgirls won The Bitter Lemons Innovative Theater Award and received and extended run at The hollywood Fringe Festival. His play Happy Sauce is published in several one-act anthologies. His one-act Hooker Raft has been produced five times in NYC in the last three years. Ben is one half of the writing/performing duo LEWIS AND ANDERSON (with fellow BREAD member Lyndsey Anderson) whose work includes Speeches and Toasts and Veruca and Dex Take It Back! As a teaching artist, Ben has devised original work with young people from inner city housing projects to rural mid-western communities. He earned his BFA from Boston University.
Sunday, May 5th @ 7p
The Unrepentant Necrophile
Presented by The Coldharts
Created and performed by Katie Hartman, Nick Ryan and Nathan Gebhard
In collaboration with Mark Benzel and Lindsey Hope Pearlman
A punk musical about a mortician and her body.
The Coldharts is a touring theater company founded by Katie Hartman and Nick Ryan in Brooklyn, New York in 2012. We are founding members of the Twin Cities Horror Festival in Minneapolis, Minnesota. We create devised, music-theatre inspired by the American Gothic. Our shows include The Legend of White Woman Creek, Edgar Allen, and Eddie Poe. For more information visit www.thecoldharts.com
Saturday, May 11th @ 2p
ALPHA
by Stephanie Swirsky
Directed by Rachel Dart
ALPHA is a modern day adaption of Shakespeare's TAMING OF THE SHREW. Set in the college greek system, and utilizing an all woman-identified cast, ALPHA is a dark comedy about how internalized misogyny leads us to participate in, and enable, the systems that oppress us.
Stephanie Swirsky writes about illness, death, grieving, and cultural identity with humor, levity, and a sense of romantic adventure. Her plays have been developed at The Brick, The Flea, Pasadena Playhouse, Theatricum Botanicum, and WordBRIDGE, among others. She is a CubaOne Literary Fellow, recipient of the Israel Baran Award, and under commission with the Iron Tongues Project between the University of Southern California and the Adam Mickiewicz Institute in Poland. Stephanie is active with Let Us Work, an advocacy group that aims to combat and end sexual harassment in theater. Originally from the suburbs of New Jersey, Stephanie currently lives in NYC, and received her BA from NYU and MFA in Dramatic Writing from USC.
The New Collectives is a New York based theatre and film collective. The company took shape in February 2014 while working on The Witches, a four person adaptation of Macbeth. After a successful workshop production in August 2014, The New Collectives was formed in January 2015. Our mission is to create new, intimate, innovative works drawing inspiration from classic plays, to develop contemporary work, and to cultivate community through outreach and education programming. In July 2015, The New Collectives ran a successful week long Shakespeare summer camp in Brooklyn, forming our education branch, The Young Collectives. The Young Collectives has expanded its education programing to include professional development workshops, in-school workshops, and holiday Shakespeare camps, in addition to our Shakespeare summer camps. In October 2015, The New Collectives, in association with Wandering Bark Theatre Company, produced a full production of The Witches, at The Access Theatre in NYC. In August 2016, TNC brought the world premiere of Sam Gooley's Steve Got Raped. to the New York International Fringe Festival. The 2017 Season consisted of three full productions: Buyer's Remorse, a one woman show by company member Mara Gannon, produced at the FRIGID Festival; The Occasion of Existence, an original dance theatre piece based on the book Einstein's Dreams; and Brendan Kennelly's modern translation of The Trojan Women. In Mach 2018, The New Collectives was honored to be part of IRT's 3B Residency program. While in residency at IRT, they produced the world premiere production of Life Brief & Glorious by Bryn Manion and developed three new pieces – THIS an ensemble built full length play by Co-Op Theatre East artists Laura Iris Hill, Robert A. K. Gonyo, and Anna Savant, Zodiac Math A one woman millennial siren song by Elizabeth May, and my favorite flower. a new full length play by Arika Larson, as part of Daily Development Workshop. The rest of the 2018 season consisted a reading of Resident Dramaturg Taylor Beidler's new play, Groundswell and a full production of Zodiac Math at MITU580.
The New Collectives company members are Giverny Petitmermet, Sarah Moore, Sam Leichter, Justin Ivan Brown, Dan Morrison, Taylor Beidler, Erin Maxon, and Mara Gannon.
For more information visit www.thenewcollectives.com
IRT Theater is a grassroots laboratory for independent theater and performance in New York City, providing space and support to a new generation of artists. Tucked away in the old Archive Building in Greenwich Village, IRT's mission is to build a community of emerging and established artists by creating a home for the development and presentation of new work. Some of the artists we have supported include Young Jean Lee, Reggie Watts and Mike Daisey.
This program is supported, in part, by public funds from the New York City Department of Cultural Affairs in Partnership with the City Council, New York State Council on the Arts, and The Nancy Quinn Fund, a project of ART-NY.
PLEASE NOTE: All sales final and there is no late seating at IRT Theater.
***IRT is a fully wheelchair-accessible facility.***