Westside Experiment
WHERE'S OUR LANDLORD? 
&nbsp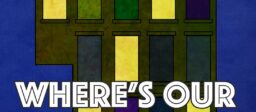 July 22, 2023
ASL Creative | Westside Experiment
IN RESIDENCE: July 10 – 22, 2023
Join a cluster of quirky tenants on their personal journeys as they try to solve their largest problem— where is the landlord when you need them?? Their apartment is falling apart, and they have no idea how to solve their problem. Based off of students' improvs and devising activities, this short play incorporates techniques and games that this summer's cohort has explored as an ensemble.
PERFORMANCE:Sat. July 22, 2023
TIME: 11am
PRICE: Pay-What-You-Can
At IRT: 154 Christopher st. NYC #3B (third floor)
Featuring: Gabrielle Delatour, Kanako Fahie, Elghin Hebrado, Kgola Makgabo, Amohelang Molobi, Ethan Rivera, Gabriel Wotman, Malik Paris
LEAD TEACHING ARTISTS:

Jessica Ranville (she/they) is a theater artist based in NYC. Originally from Winnipeg, Canada, she is part of the Métis Nation of Manitoba. They focus on developing new works (The Lark, NY Stage & Film, WP Theater) and plays with music and folk musicals (Stupid F*cking Bird at The Pearle Theatre, Charles Mee's Soot and Spit at the New Ohio Theater). Regionally, Jessica most recently played William Dunn in Men On Boats at Baltimore Center Stage. Past work at IRT theater includes residences with Our Voices and Blessed Unrest. MFA: The New School for Drama; jessicaranville.com; @jessicaranville.
Malik Paris (he/him) is a Deaf actor and artist based in Philadelphia, PA. Co-founding member and performer of the ASL poetry performance group, 'Dangerous Signs' since 2010 / 2011. Been performed in a range of his work done in performance arts, from Young Audience performances to Fringe Festival creations; Godspell, Pippin, the Little Shop of Horrors (Rochester's Equity, GEVA Theatre), Man of La Mancha (Multi-use Community Cultural Center, MuCCC), and Rochester Community Players' The Tempest. August Wilson's Fences, and In the Heights (Panara Theatre). New York Deaf Theatre (NYDT) productions include: TITUS and Rocky Horror Picture Show and associated with Public Works production's Twelfth Night. Deaf Broadway's Into The Woods: LIVE at Lincoln Center. YOVO, My Onliness and Please Untranslate Me (IRT Theater).
HONORARY GUEST TEACHERS:
Jules Dameron (he/him) is a Deaf trans and gay film & theatre director, actor & writer, working with both deaf and hearing actors. Jules graduated from Gallaudet University with a B.A. in TV/Cinema and then obtained an MFA in Film Production/Directing at one of the leading film schools in the world, the University of Southern California. Shifting between both Deaf and hearing cultures, Jules has a strong insight into how the deaf community has a different way of sharing information. Mediating between two cultures has helped Jules harness a direction style and vision that is unique and unparalleled. When not in the director's chair, Jules extends his acting talents to the stage playing various roles in notable shows like Romeo and Juliet, Rocky Horror Picture Show, and Lés Miserables. Upcoming is his role of "Harry" in Company, Lincoln Center, NYC.
Annie Wiegand is one of the only Deaf professional lighting designers in the country. Her heightened sense of sight adds a unique layering to her designs. Her passion for the arts led her first to Gallaudet University in Washington, DC to begin her undergraduate education, and eventually to Appalachian State University in Boone, NC to earn a Bachelor of Arts in theatre with a concentration in design and technology. She was the lighting director for The Acting Company for three years, where she toured the country and translated designs for theatres on an almost daily basis. Since then, she has continued to design shows in Boston, NYC and DC. Annie had the opportunity to work as the Second Assistant Lighting Designer on the Tony Nominated Broadway revival of Spring Awakening in 2015. She designed her first Off-Broadway show at Playwrights Horizons, I Was Most Alive with You, in fall 2018.
Dickie Hearts is a Deaf, gay, multiracial actor. His TV credits include a recurring role on Netflix's Tales of the City (2019), a supporting role on HBO's High Maintenance (2020), and a guest-starring role on Netflix's Grace & Frankie (2017). Stage credits include his Off-Broadway debut in Dark Disabled Stories (2023) at Public Theater, New York Deaf Theatre's Maple & Vine, IRT's Stepchild, Please Untranslate Me, and Trash. Dickie Hearts continues to push for more Deaf, LGBTQ+, and BIPOC visibility and representation onstage and onscreen. Hearts is a Disability Futures Fellowship '22 recipient and is repped by Nicolosi & Co. This is his first Lucille Lortel award nomination.
Daniel Irizarry is a Puerto Rican born International Experimental Theatre director, actor, performer and educator based in NYC. The New York Times described his work as "thrillingly kaleidoscopic" creating a "boldly physical world" (The Maids 2016, Intar Theater). He is the Artistic Director of One-Eighth Theater, best known for his productions of The Maids byJose Rivera (New York Times Critics pick) and UBU by Adam Symkowicz (Time Out NY Critics pick), as well as his work at Pregones Theatre and INTAR Theatre. His extensive teaching career spans the globe, including as a Guest Professor at Folkwang University in Germany, Visiting Assistant Professor at Bilkent University Performing Arts program in Ankara, Turkey and most recently at Assistant Professor at the Acting Department at Seoul Institute of the Arts in South Korea. He holds an MFA in Acting from Columbia University, a BA in Drama at The Universidad de Puerto Rico.
Lisa B Lewis began her career as a graduate of Ringling Bros. and Barnum & Bailey Clown College. She has a BA from Brandeis University and earned a Master's Degree in Clown/Circus History from NYU. Lisa is also the co-founder of the Super Scientific Circus. As Lisa Lou, she has performed her own circus and science shows all over the world. Lisa spent many years working with the Big Apple Circus in multiple capacities. It was there she first encountered Circus of the Senses and her path was to change forever. Lisa doubled the reach of the program and, seeing a need in the community, she was instrumental in creating the Embracing Autism performances. Lisa expanded both offerings and audiences, created an inclusive training program for staff and supported organization wide inclusive hiring practices. Lisa's passion for sharing the magic of the circus combined with her many years of experience inspired her to reimagine the art form of circus for 21st Century audiences as Omnium: A Bold New Circus.
Interpreters: Samantha Geffen, Emily Hart, and Kat Katona
Producing Artistic Director: Kori Rushton
Executive Assistant: Elghin Hebrado
IRT Theater is a grassroots laboratory for independent theater and performance in New York City, providing space and support to a new generation of artists. Tucked away in the old Archive Building in Greenwich Village, IRT's mission is to build a community of emerging and established artists by creating a home for the development and presentation of new work.
This program is supported, in part, by public funds from the New York State Council on the Arts and the New York State Legislature; New York City Department of Cultural Affairs in Partnership with the City Council; National Endowment for the Arts; A.R.T./New York's NYC Small Theatres Fund made possible with support from the Howard Gilman Foundation & support for ASL interpretation provided in part through funding from Access A.R.T./New York.
ACCESS: IRT is a fully wheelchair-accessible facility. Please reach out to Kori Rushton if you have any accessibility questions or concerns, krushton@irttheater.org
PLEASE NOTE: All sales final and there is no late seating at IRT Theater.