Westside Experiment
Beyond Words
&nbsp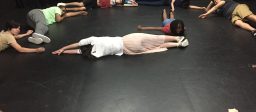 July 14, 2018 
ASL Creative | Westside Experiment
IN RESIDENCE: July 2- 14, 2018
A delightful mix of music, mime and theater pieces created over a two week period at IRT's Westside Experiment and exciting unique approach to summer theater camp mixing cultures and providing new performance tools.
PERFORMANCES:Sat. July 14, 2018
TIME: 11am & 1pm
LENGTH OF SHOW: 40 min
PRICE: Pay What You Can
At IRT:154 Christopher st. NYC #3B (third floor)
Featuring:
Solana Barnes, Mariama Diallo, Ella Fleming, Bryn Healy, Violet Newman, Anthony Paredes, Thatcher Pitkoff, Emilia Salazar, Jonesy Strell, Lleontyne Brown, Edgar Emanuel Van Kirk, Jose Ariel Batista, and Jayden Orlang.
Noelle Howey, Richard Fleming, Fran Pado, Kathryn McKenzie, Carolyn Walker-Diallo, Tanesha Barnes, Vicente Salazar, Dimity Jones, and Carmita Parede.
ABOUT RESIDENT COMPANY: DANGEROUS SIGNS
Dangerous Signs is a performance group that represents global community building through the use of American Sign Language (ASL), spoken English, music and dance. We intend to present the beauty of Deaf, hearing and ethnic cultures when they all combine on stage.
HONORARY GUEST TEACHERS:
Julia C. Levy is Executive Director of Roundabout Theatre Company. In her 25 years with Roundabout, Julia has guided its growth from a small off-Broadway company to a leading not-for-profit institution. Prior to Roundabout, she held positions at the Boston Symphony Orchestra and Lincoln Center for the Performing Arts. She received her BS the University of Vermont and attended Harvard Business School Executive Education program. She currently serves on the Times Square Alliance Board of Directors and the NYC Department of Education Advisory Council for Arts Education. She is a frequent lecturer on arts management, sponsorship, governance and fundraising.
John McGinty is thrilled to be making his Broadway debut with Children of a Lesser God! NY (selected): Fêtes de la Nuit (New Ohio Theatre), Veritas (The Representatives), Samuel Hunter's The Healing (Theater Row). Regional (selected): Levity (Warren Miller Performing Arts Center), Children of a Lesser God (Berkshire Theatre Group), The Hunchback of Notre Dame (Sacramento Music Circus and La Mirada Theatre), Tribes (Guthrie Theater, Steppenwolf Theatre, Everyman Theatre), Pippin (Center Theater Group, Deaf West). Film (selected): Wonderstruck with Todd Haynes, Award-winning Sign. TV/Web Series (selected): "High Maintenance" (HBO/Vimeo), "Don't Shoot the Messenger." https://www.youtube.com/watch?v=moZVsEYJUpE
Daniel Irizarry (SAG, AFTRA) Artistic Director of One-Eighth Theater. Recently directed the world premiere of The Madman and The Nun by Witkacy performed by turkish actors at Bilkent University in Ankara, Turkey. Conceptualized and directed Mouthgasm at Bilkent University in Ankara and METU in Cyprus. Directed and performed in One-Eighth theater The Maids (The New York Times Critics Pick), a new adaptation by Jose Rivera, at INTAR Theatre. He is currently a Visiting Assistant Professor at Bilkent University in Ankara, Turkey. Directed and performed the critically acclaimed production Teach Teacher Teachest written by David koteles loosely based by Eugene Ionesco's The Lesson. Directed and performed the critically acclaimed production UBU (Time Out New York Critics Pick), Text by Adam Szymkowicz at INTAR Theatre. Directed An Italian Staw Hat by Eugene Labiche at Folkwang University and MASCHINENHAUS Essen, Germany. Irizarry is a director, actor, and teaching artist based in NYC. He has taught Acting at Columbia University's MFA Acting Program, Vilnius Kolejia in Lithuania, University of Wales Trinity Saint David in UK, The Eugene Lang College The New School for Liberal Arts, New York Conservatory for Dramatic Arts, Actors without Boarders from Istanbul and The Sarah Lawrence University at La MaMa Theatre, CAVE/LEIMAY, Bilkent University in Turkey, German Stat Theater in Timisoara, Freie University in Berlin, Syowa Ongaku University in Tokyo, The University of Puerto Rico, and Kookmin University in Seoul.www.danielirizarry.org
Fred Michael Beam is the outreach coordinator for Sunshine 2.0. He is an experienced performer with acting credits that include Nicholas in "By the Music of the Spheres" at the Goodman Theater, Harry in "Harry the Dirty Dog" at the Bethesda Academy of Performing Arts; Witness in "Miracle Workers" and Stranger in "Mad Dancer" at the Arena Stage in Washington, D.C.; "Fall Out Shelter," "The Dirt Maker" and "The Underachiever" at the Kennedy Center; the title character in "Othello" at Gallaudet University; and Steve in "A Streetcar Named Desire" at Sign­Rise Cultural Arts in Washington, D.C. He also performs in his one-man shows, "Fred Michael Beam: Sign Me a Story" and "Black, Deaf Male: Who Am I?," which toured nationwide. He was a member of "I Didn't Hear That Color," the first black deaf play ever produced. His television and film credits include "If You Could Hear My Own Tune," "The West Wing," "Secret Dream," "Little Lonely Monster," "Deaf Mosaic" and "The New Captain Kangaroo," for which he won the 2000 Media Access Award.
A dancer, director and choreographer, Beam has worked with the Gallaudet Dance Company, the National Deaf Dance Theatre, the DuPont Dance Company, the Penn Vision Dance Company and the Bethesda Academy of Performing Arts. He has performed around the globe, including in Africa, Australia, Egypt, England, France, Jamaica, Japan, Sweden, South America and the Virgin Islands. He also was choreographer for the production of "Jesus Christ Superstar" at the Open Circle Theater in Washington, D.C.
This program is supported, in part, by public funds from the New York City Department of Cultural Affairs in Partnership with the City Council, New York State Council on the Arts, and The Nancy Quinn Fund, a project of ART-NY.
IRT Theater is a grassroots laboratory for independent theater and performance in New York City, providing space and support to a new generation of artists. Tucked away in the old Archive Building in Greenwich Village, IRT's mission is to build a community of emerging and established artists by creating a home for the development and presentation of new work. Some of the artists we have supported include Young Jean Lee, Reggie Watts and Mike Daisey.
This program is supported, in part, by public funds from the New York City Department of Cultural Affairs in Partnership with the City Council, New York State Council on the Arts, and The Nancy Quinn Fund, a project of ART-NY.
PLEASE NOTE: All sales final and there is no late seating at IRT Theater.
***IRT is a fully wheelchair-accessible facility.***