Our Voices
Archive Residency-SOOT AND SPIT
&nbsp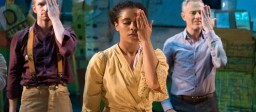 May 27 - June 17 2017
Archive Residency | ASL Creative | Productions
IN RESIDENCE: 2015- 2017 Resident Company
New Ohio Theatre and Our Voices present
An Archive Residency Production, in collaboration with New Ohio and IRT Theater
Written by Charles Mee, Jr.
Directed by Kim Weild
What drives a single person to create nearly 20,000 works of art? Celebrating the life of James Castle, one of America's great outsider artists, Our Voices presents the world premiere of acclaimed playwright Charles Mee's soot and spit. Born profoundly deaf, Castle never learned to read, write, sign or speak. His art was his language. Bringing his world to life through bluegrass, dance, and multi-media displays of his works, soot and spit enables its audience to experience the "other"- and rejoice in the unquenchable creativity of the human spirit.
THEATER:
The New Ohio Theater
154 Christopher Street
ASL interpreted performances:June 8th at 7:30pm & June 10th at 2:00pm.
Autism-friendly performance: June 17 at 2:00pm.

Featuring the talents of:
Robert Ariza*, Karen Ashino-Hara, Estelle Bajou*, Alida Rose Delaney, John Ford Dunker*, JW Guido, Peregrine Heard, Touissant Jeanlouis*, Geraldine Leer*, Christopher Lopes, Douglas Waterbury-Tieman*, Arielle Yoder*,
*These Actors are appearing courtesy of Actors' Equity Association.

Orchestrations by Daniel Puccio
Sets by Matthew Imhoff
Costume Design by Haley Peterson
Lighting Design by Paul Miller
Media Design by Boyd Branch
Props Design by Leontine Greenberg
Choreography by Donnie Mather
Associate Costume Design by Jennifer Anderson
Costume Crafts Artisian – Cybele Moon
Assistant Lighting Design by Annie Weigland
Music Direction by Dan Pardo
Associate Music Direction by Nathan Dame
Production Managed by Scott Schneider
Stage Management by Michael J. Tosto
Assistant Stage Management by Elizabeth Fontaine
Assistant Directed by Jenna Hoffman & Brad Ogden
Associate Produced by Stanley Bahorek
Produced and General Managed by Aaron Simms
Running time: 90 minutes, no intermission
OUR VOICES creates innovative theater that exalts diversity, engenders understanding, provokes empathy and offers an alternate way for society to organize itself. They actively investigate themes of otherness in society whether they are culture, language, gender, sexual orientation or ability while cultivating an inclusive experience that more accurately represents our shared humanity and the world in which we live.
SOOT AND SPIT was developed, in part, through the Archive Residency, a program of New Ohio Theatre and IRT Theater.
Our Voices is grateful to Arizona State University's Herberger Institute for development and production support.
IRT Theater is a grassroots laboratory for independent theater and performance in New York City, providing space and support to a new generation of artists. Tucked away in the old Archive Building in Greenwich Village, IRT's mission is to build a community of emerging and established artists by creating a home for the development and presentation of new work. Some of the artists we have supported include Young Jean Lee, Reggie Watts and Mike Daisey.
The Archive Residency is generously supported, in part, with funds from The NYC Department of Cultural Affairs, The National Endowment for the Arts, The Nancy Quinn Fund, a project of ART-NY, and the Mary Duke Biddle Foundation.
The Archive Residency is generously supported, in part, with funds from The NYC Department of Cultural Affairs, The National Endowment for the Arts, and the Mary Duke Biddle Foundation.
Photos by Nina Wurtzel from the 2016 Ice Factory first-look showing
*Appearing courtesy of Actors' Equity Association