The Obscura Factory | Jody Christopherson
Tussaud/Antoinette
&nbsp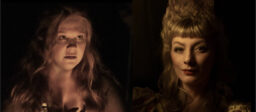 Nov 17-19 2023
IN RESIDENCE: October 17 – 30 & November 14 – 20, 2023
A tale of two Maries.
One ruled wax; the other ruled France.
​Before Madame Marie Tussaud achieved wax museum fame, she was a sculptor, nearly guillotined during the French Revolution. She survived the Reign of Terror by using her artistic talents and went on to not only preserve history but to become it, notably by documenting the death of Queen Marie Antoinette.
PERFORMANCE:
Nov 17th, 730pm
Nov 18th, 2pm matinee
Nov 18th 730pm
Nov 19th 2pm matinee
RUNNING TIME: 
PRICE:
$20 General or $30 premium ticket that includes a glass of champagne
At IRT: 154 Christopher st. NYC #3B (third floor)
ADA Accessible
VISIT/CONTACT US»
Inspired by primary sources, along with outrageously unreliable legends and claims, Tussaud/Antoinette re-imagines the Sapphic fantasy of Marie's Marie- a story of ambition, obsession, longing, and terror, set against the backdrop of a dangerously divided nation. 60 min, performed in English.
Presented by The Obscura Factory
Written & Directed by Jody Christopherson
Assistant Direction by K8 August
Performed  by Melody Bates and Jody Christopherson
Dramaturgy & French Language Coaching by Amelia Parenteau
Sound Design & Composition by Kodi Lynn Milburn
Lighting & Projection Design by K8 August
Set Design by Jody Christopherson and by K8 August
Costume & Prop Design by Jody Christopherson
Stage Management by Kristine Schlachter

Bios
JODY CHRISTOPHERSON (she/her) (Performer, Writer/ Director) is a New York-based, Nebraska-born, generative artist. Her mediums include; performance, writing, conceptual design, direction, music/foley, photography, film, and curation. Reviewers have called her a "visionary in the theater world and legendary storyteller", who is "a talent to watch, not to mention a pleasure to hear". Her works have been performed in 28 cities in 6 countries, including Canada, Detroit MI, New Orleans, Key West FL, Miami, Amsterdam, Germany, Lithuania, Australia, New York. She has been producing and co-producing her work since 2004 in America and abroad. Her productions have been nominated for a Drama League Award and 6 Innovative Theater Awards. Ms. Christopherson is the recipient of an Indie Theater Fund Emergency Grant, a New York Society Library Grant for emerging female writers underwritten by Alexander Sanger, the All for One So-Co Residency, and The LIT Fund Grant. Generative works include; Greencard Wedding, AMP: The Electrifying Story of Mary Shelley, St Kilda, Necessary Exposure, and Excavation. https://linktr.ee/JodyChristopherson
K8 AUGUST (they/them) (Lighting Design) has hidden out in downtown theater spaces, turning things on and off for the past decade. When not turning lights on and off, they're often found in tech closets muttering. Past Lighting projects include but are not limited to Devil in a Box, a sex thing (or, a bunch of liberals getting uptight about the sociopolitical implications of their desires), Basil Twist's Puppet Parlor.  They have a profound enjoyment of french toast.
AMELIA PARENTEAU (she/her) (Dramaturgy) is a writer, French-English translator, and theatermaker with a passion for social justice, based in New Orleans. An alumna of Sarah Lawrence College, she has worked with 600 HIGHWAYMEN, Ping Chong + Company, The Civilians, the French Institute Alliance Française (FIAF), The Lark, the New York International Fringe Festival, the Park Avenue Armory, and Theatre Communications Group in New York City, as well as Trinity Repertory Company in Providence, RI, People's Light in Malvern, PA, the Eugene O'Neill Theater Center in Waterford, CT, the Théâtre du Soleil in Paris, France, and Intramural Theater and No Dream Deferred in New Orleans, LA. Her writing and translations have been published in numerous outlets including American Theatre Magazine, Asymptote, Contemporary Theatre Review, and HowlRound. www.amelia-parenteau.com
KODI LYNN MILBURN (she/her) (Sound Designer/ Composer) is a mixed-indigenous American performer, writer, and designer from Nebraska, based in Brooklyn. Cross-discipline credits include: Sylvia Milo's The Other Mozart (Hong Kong, Players Theatre NYC, U.S. Tour), Jody Christopherson's AMP (HERE arts center), My Onliness  (The New Ohio), Chess (American Theater for Actors), Uta Hagen Centennial Salon (Lincoln Center Library), I am the utterance of my name (Baryshnikov Arts Center), Sparkle Spa (Jill Santopolo, BMI World Trade Center), Obsessions (Brooklyn Arts Exchange), Ewalt & Walker (54 Below), Mary & Max (Bobby Cronin & Crystal Skillman), Jean Brassard's Voyage en Chanson (National Sawdust), Till Soon, Anne, Of Trains and Heroes (NYU Casa Italiano), L'autre Mozart (Fringe North, Halifax Fringe), Joni, Je L'aime a Mourir (Dir. Patrick Karambizi), The Resurrection of (original piece, Plains Theater), The Making of Madeline Moore, Anne of Green Gables, Urinetown (under D.W. Costumes), Seeking Alice (Best musical NOVA film fest '17), Chrysalis (original piece, 100 Bogart st.), Could you dance in my shoes? (Dir. Deidre Goodwin), 4 women, Oddville, Requiem for a Butterfly (The Delancey, Bar Nine), Midnight Ramblings, Morning Revelations, Modern Renaissance, and Pine now available on Spotify & iTunes. kodilynnmilburn.com
MELODY BATES (she/ they) (Performer) is a native Oregonian actor and writer based in Red Hook, Brooklyn. She is a queer femme creatrix whose award-winning work includes the plays Avalon and R & J & Z. As an actor, she has performed at The Public Theater, Brooklyn Academy of Music, La MaMa E.T.C., The New Ohio Theater, IRT, A.R.T Boston, Theatre des Amandiers (Paris), Cankarjev Dom (Ljubljana), and the Metropolitan Opera, where she has recently worked with directors Simon McBurney, Bartlett Sher, and David McVicar. TV and film work includes Law & Order SVU, PBS Great Performances, and the indie feature Ask For Jane. Melody's play R & J & Z, called "boisterous and splendid" by the NY Times, is available from Original Works Publishing and continues to be produced around the country. The NYIT Awards have recognized her with acting, writing, and original music awards. She was featured in Jody Christopherson's Necessary Exposure: The Female Playwright Project and was a finalist for the Doric Wilson Independent Playwright award. Avalon, her site-specific collaboration with Peter Beerits and Jennifer Paar, received the state of Maine's 2020 Innovation & Creativity Award. More at www.melodybates.com
Kristine Schlachter (she/her)  (Production Stage Manager) Is thrilled to be back working on Tussaud/ Antoinette, previous productions with The Obscura Factory include AMP.  Recent: Off-Broadway: Avenue Q, Emperors Nightingale (Nom. Off-Broadway Alliance Award), The Brothers Paranormal (World Premiere), Memorial (NYTimes Critics Pick) Regional: Jersey Boys, The Wizard of Oz, Holiday Inn, The Glass Menagerie, Long Days Journey Into Night, Singing In The Rain, Big River, Macbeth, Twelfth Night, The Magic Flute, The 39 Steps NYC: As You Like It, The Marriage of Figaro, Raisin in the Sun, The Great Society, FAME!, Cyrano De Bergerac, Caucasian Chalk Circle, Tartuffe, Allegro, The Secret Garden. BFA Syracuse University. Special thanks to my family for all your support.
TATYANA KOT (Movement Direction, u/s Marie Antoinette) grew up in the Soviet Union, where she trained as a ballerina. After obtaining a Master's degree in Teaching History and Archaeology, she moved to New York.
Tatyana has continued her movement artist training with Kay Nishikawa (Nishikawa Collective) and Jessica Burr (Blessed Unrest theater company), while teaching theater and dance to kids and adults with disabilities. She has choreographed 9 world premieres of plays, including Don Nigro's "The Chaplin Plays" and John Patrick Shanley's "Candlelight".
Tatyana has been a fan of Jody Christopherson's work for years and is delighted to join forces to work on this exquisite piece.
THE OBSCURA FACTORY, LLC is an independent  Theater Production Company dedicated to producing lo-fi, high-concept, multidisciplinary works, festivals, and experiences in New York and on tour. Founded by performer/producer Jody Christopherson in Jan 2019. Credits include: Necessary Exposure, the so-fi festival, AMP, St Kilda, Tussaud/Antoinette.
IRT Theater is a grassroots laboratory for independent theater and performance in New York City, providing space and support to a new generation of artists. Tucked away in the old Archive Building in Greenwich Village,  IRT's mission is to build a community of emerging and established artists by creating a home for the development and presentation of new work.
This program is supported, in part, by public funds from the New York State Council on the Arts and the New York State Legislature; New York City Department of Cultural Affairs in Partnership with the City Council; A.R.T./New York's NYC Small Theatres Fund made possible with support from the Howard Gilman Foundation & support for ASL interpretation provided in part through funding from Access A.R.T./New York.
ACCESS: IRT is a fully wheelchair-accessible facility. Please reach out to Kori Rushton if you have any accessibility questions or concerns, krushton@irttheater.org
PLEASE NOTE: All sales final and there is no late seating at IRT Theater.
Promo image credits; pictured Jody Christopherson (photo by Hunter Canning) and Melody Bates, photo by Jody Christopherson)