Olivia Hunt | Cheers to 40 Collective
The Misanthrope
&nbsp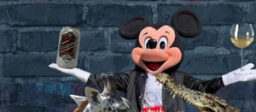 Dec 8-10 2023
In Residence: November 21 – December 11, 2023
Riffing on Molière's concept of a misanthrope, The Misanthrope is an anti-classic, anti-romantic love story set in the timeless home for misanthropy, New York City's East Village. Maddy (19), historically an overachiever and childhood competitive dancer, is seeking out new physical experiences to cover up the old ones. Hanes (24), has a distaste for reality that makes it impossible for him to give Maddy what she wants– which, of course, only makes her want it more. Both need help but can't help each other. Which makes their relationship pretty much irresistible. The play finds kinship with the wandering, melancholic sounds of The Velvet Underground & Nico's self-titular album, with the East Village as a geographical and cultural backdrop.
The Misanthrope is presented by the Cheers to 40 Collective. To learn more about Cheers to 40 artists, visit www.cheersto40.com/whoevenareyou.
Performances: This event will be a staged workshop of The Misanthrope.
Friday, December 8th 3pm & 8pm
Saturday, December 9th 8pm
Sunday, December 10th 6pm
RUNNING TIME: 90 minutes, no intermission
PRICE:
$20 regular ticket
$15 student | senior
At IRT: 154 Christopher st. NYC #3B (third floor)
ADA Accessible
VISIT/CONTACT US»
Olivia Hunt (Playwright)
Olivia Hunt is a New York based playwright and essayist from Philadelphia. Her plays take interest in the shared motivation between characters and audiences to pursue or reject radical, shared experiences. THE MISANTHROPE will be staged at IRT in 2023 as part of their 3b Residency and has been developed at Rattlestick Theater and Oxford University Dramatic Society. Her play, THE PIT, was nominated for KCACTF's National Partners of the American Theatre Playwriting Award. Her work has also been presented by La MaMa Experimental Theatre Club, The Tank and The Kraine. She is the Playwright in Residence at Cheers to 40 Collective and sits on the Board of Village Playwrights, a queer playwrights non-profit in the West Village since 1985. BFA: Dramatic Writing, NYU Tisch School of the Arts.
Frances Timberlake (Director)
Frances Timberlake is a writer and theater artist from Cincinnati, Ohio. Frances has been named a National YoungArts winner, nominated as a U.S. Presidential Scholar in the Arts, published by Samuel French, and earned recognition through the National Scholastic Art & Writing Awards and the Overture Awards. She has a BFA in Dramatic Writing from New York University's Tisch School of the Arts. Frances is currently working as the writer's assistant to Stephen Schwartz and Lindsey Ferrentino on a new musical: The Queen of Versailles.
Noah Blau (Producer)
Noah is a writer-director and independent producer. He recently produced Boobah: The Rise and Fall of an Empire which was featured on do-NYC and sold out The Asylum Theater in Midtown Manhattan. His film projects have screened at the Austin and Maryland Film Festivals. Currently, Noah works as a development assistant to a television writer. Independently, he is developing a feral hog-related feature film set in small-town Texas and a series that focuses on post-grad life. You can often find him on a Citibike or eating a decadent sandwich.
Hillel Rosenshine (Hanes)
Clara Napolitano (Maddy)
Julia D'Angelo (Body)
Reeve Nunn (Technical Director)
Molly Scharlin Ben-Hamoo (Graphic Designer)
IRT Theater is a grassroots laboratory for independent theater and performance in New York City, providing space and support to a new generation of artists. Tucked away in the old Archive Building in Greenwich Village,  IRT's mission is to build a community of emerging and established artists by creating a home for the development and presentation of new work.
This program is supported, in part, by public funds from the New York State Council on the Arts and the New York State Legislature; New York City Department of Cultural Affairs in Partnership with the City Council; A.R.T./New York's NYC Small Theatres Fund made possible with support from the Howard Gilman Foundation & support for ASL interpretation provided in part through funding from Access A.R.T./New York.
ACCESS: IRT is a fully wheelchair-accessible facility. Please reach out to Kori Rushton if you have any accessibility questions or concerns, krushton@irttheater.org
PLEASE NOTE: All sales final and there is no late seating at IRT Theater.