Henry Sheeran
Ted Bundy's Volkswagen
&nbsp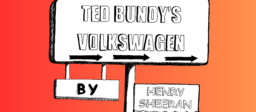 Nov 4th – 12 2023
IN RESIDENCE: October 31 – November 13, 2023
In an attempt to repair their fraught relationship, twenty-four-year-old ANNIE takes her mother, MIDGE, on a cross country road-trip to see Ted Bundy's Volkswagen. Will their shared love for true crime bring them together, or are the forces of guilt, shame, and hate stronger than the force of love? Ted Bundy's Volkswagen is a raucous exploration of family, violence, and that little worm called cruelty that wiggles around in each and every one of us.
PERFORMANCE:
PREVIEW: Saturday, November 4th – 2:00pm
OPENING NIGHT: Saturday, November 4th – 8:00pm
Sunday, November 5th – 2:00pm
Sunday, November 5th – 7:00pm
Monday, November 6th – 8:00pm
Wednesday, November 8th – 8:00pm
Thursday, November 9th – 8:00pm
Friday, November 10th – 8:00pm
Saturday, November 11th – 2:00pm
Saturday, November 11th – 8:00pm
CLOSING NIGHT: Sunday, November 12th – 5:00pm
RUNNING TIME: 90 minutes, no intermission
PRICE:
$25 base price
$10 Preview (November 4th 2:00pm)
At IRT: 154 Christopher st. NYC #3B (third floor)
ADA Accessible
VISIT/CONTACT US»
Written, Directed and Produced by Henry Sheeran
Henry Sheeran is a theater- and filmmaker with an MFA from Northwestern in Writing for the Screen and Stage. His 2018 play, Gain!, was a semifinalist for the O'Neill National Play Conference and enjoyed a sold-out, site-specific run at Sportslab Gym in Manhattan. His 2021 short film, Dust Buddy (the first venture of his short film company, Laundry Day Productions), received the "Best Short Film" and "Audience Choice" awards from the European Short Film Festival. He executive produced and starred in Laundry Day's more recent short film, Skin Deep, playing this fall at the PROOF, Paracinema, and Nightmares film festivals.
Produced by Emma Richmond
Emma Richmond is a producer, director, and administrator who is interested in strange and silly theatre. She has worked with HERE, The Tank, Clubbed Thumb, Columbia University, Audible, Colt Coeur, and Caveat. She holds a BFA from The New School, where she co-founded the School of Drama's first student-run theatre collective. She also co-founded and currently leads Trove, a theatre and live arts collective. www.emma-richmond.com / www.troveirl.com
Choreography and Stage Combat by Natalie Shinnick
Natalie Shinnick is a physical performer, choreographer, actor, and intimacy coordinator, with a BFA in acting and minor in dance from NYU. Some of her movement credits for film include Maya Hawke's "Therese" music video, scenes in the up-coming film "The Brutalist" as well as the short films "Marco," "Skin Deep," and "Blink Twice." Some of her stage movement credits include "Active Connectic Groove" performed with the Hudson Valley Movement Company, "TKS Summer Installations" in Industry City, "Morning" by Simon Stevens, "Really Really" by Paul Downs Colaizzo, and "American Jack" by Caroline Flynn. She currently teaches the Williamson technique at Terry Knickerbocker Studio and at New York University. She is thrilled to be working on this incredible script and cannot wait to dive into movement work with the ensemble.
Starring:
Richard Toth as "STEVE"
Julia Rehwald as "ANNIE"
Yvonne Perry as "MIDGE"
Felix Teich as "MARK/PATRICK"
Andrew Goehring as "JERRY"
Stage Manager: Violet Woundy
Lighting Design by Jacob Zedek
Costume Design by Margaret Litzow
Consulting Producer: Leigh Honigman
IRT Theater is a grassroots laboratory for independent theater and performance in New York City, providing space and support to a new generation of artists. Tucked away in the old Archive Building in Greenwich Village, IRT's mission is to build a community of emerging and established artists by creating a home for the development and presentation of new work.
This program is supported, in part, by public funds from the New York State Council on the Arts and the New York State Legislature; New York City Department of Cultural Affairs in Partnership with the City Council; A.R.T./New York's NYC Small Theatres Fund made possible with support from the Howard Gilman Foundation & support for ASL interpretation provided in part through funding from Access A.R.T./New York.
ACCESS: IRT is a fully wheelchair-accessible facility. Please reach out to Kori Rushton if you have any accessibility questions or concerns, krushton@irttheater.org
PLEASE NOTE: All sales final and there is no late seating at IRT Theater.