Radical Evolution
SONGS ABOUT TRAINS
&nbsp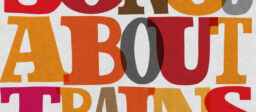 April 5 – 23 2022
3B Development Series | Archive Residency | Productions
Presented by Working Theater, Radical Evolution, and New Ohio Theatre an Archive Residency premiere in partnership with IRT Theater

Folk songs, stories, and movement weave together in this theatrical concert to celebrate the multicultural workers from a pivotal moment in history—the building of the US rail system—and how their often untold stories and labor have had a lasting impact on the world we live in today.
Created by: Radical Evolution
Directed by: Rebecca Martínez and Taylor Reynolds
Music Director/Arranger: Julián Mesri
Choreographer: Joya Powell
Artistic Producer: Meropi Peponides
Lead Author: Beto O'Byrne
Contributing Authors: Eugenie Chan, Reginald Edmund, Rebecca Martínez, Jay Muskett
an Archive Residency premiere in partnership with IRT Theater
Featuring: C.K. Edwards, Christian A. Guerrero, Cedric Lamar, Julián Mesri, Beto O'Byrne, Sara Ornelas, Jessica Ranville and Mao Zhang
Please review our website for up-to-date COVID protocols. Currently, you must show proof of full vaccination to watch the performance. You will be required to wear a mask, but performers will not be masked.

PERFORMANCES:
April 5 – 23, 2022
Thursday-Sunday
Thursday & Friday 7pm
Saturday 3pm & 7pmSunday 3pm
LENGTH OF SHOW: TBD
PRICE: Sliding Scale Ticket Pricing
At New Ohio Theatre:154 Christopher st. NYC #1E
Using music as central storytelling, Songs About Trains highlights the untold stories of this multicultural workforce and explores the complexities of immigration, labor, Manifest Destiny, and the "progress" of the railroad—how it helped forge a global superpower, generated unbelievable wealth to a select few, and did so at the expense of thousands of lives, all while inspiring one of the deepest cannons of music ever made in this country.
Funding for Songs about Trains is provided, in part, by the Venturous Theater Fund of the Tides Foundation, 21st Century ILGWU Heritage Fund, Off Broadway Angels, and The Puffin Foundation, Ltd.
Radical Evolution is a multi-ethnic producing collective committed to creating artistic events that seek to understand the complexities of the mixed-identity existence in the 21st Century. We advocate for the visibility and representation for the fastest growing demographic in our nation – those who identify as more than one race or ethnicity. We aim to seed the field of downtown theatre with artists of color and assert our vision for cultural and social equity in our field, city, and nation.