Michael Eichler & Paul Dederick
SIXTY NINE SEVENTY (Workshop)
&nbsp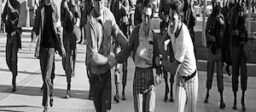 Feb 16-19 2023
IN RESIDENCE: January 31 – February 20, 2023
SIXTY NINE SEVENTY was developed, in part, through Kori Rushton and the IRT 3B Development Series. And is brought to you by Playwright Michael Eichler and Director/Producer Paul Dederick.
Amidst growing civil unrest and distrust of the Nixon Administration, we follow four students at Buffalo State College, from different socio-economic backgrounds, as they try to find the right side of history. Throughout the 1969 -70 Academic year, we see Barry, Naomi, Sharon and Andy dealing, in their daily lives, with issues like misinformation and public manipulation, women's rights, racial equality and inherent racism, abortion access, political corruption and federal agencies monitoring activist groups, all amidst a publicly unsupported war and draft to supply it. As these students are confronted with a barrage of oppression and manipulation to further a corrupt administration, they are forced to examine their perspectives and look past what they're told, to define themselves and what they are willing to do for what they believe in.
Dates:
Thursday Feb 16th 7:30pm
Friday Feb 17th 7:30pm
Saturday Feb 18th 2:00pm & 7:30pm
Sunday Feb 19th 2:00pm
Length:
PRICE: $20.00
At IRT: 154 Christopher st. NYC #3B (third floor)
MASKS REQUIRED
Producer Directer – Paul Dederick
Cast: Katherine Olson, David Fine, Scott Gordon, Aïssa Guindo
Camera work: Michael Christensen
Playwright: Michael Eichler
Michael Eichler spent most of his career as a community organizer, working in low income neighborhoods across the U.S. He stumbled into playwriting late in life.  His plays center on working class characters and the challenges they face. He has had productions in San Diego, LA, Portland and NYC. Two plays are planned for production in London this year. (eichlerplays.com) He is a Buffalo NY native and a Buffalo State graduate, class of 1972.
Paul Dederick is a Graduate of the London Academy of Music and Dramatic Arts(LAMDA) with his Masters in Classical Acting. This will be his Directorial Debut. Cast is as follows: Scott Gordon as Andy, Aïssa Guindo as Naomi, Katherine Olson as Sharon. All cast and Artist information can be found at sixty-nine-seventy-producion.my.canva.site.
IRT Theater is a grassroots laboratory for independent theater and performance in New York City, providing space and support to a new generation of artists. Tucked away in the old Archive Building in Greenwich Village,  IRT's mission is to build a community of emerging and established artists by creating a home for the development and presentation of new work.
This program is supported, in part, by public funds from the New York State Council on the Arts and the New York State Legislature; New York City Department of Cultural Affairs in Partnership with the City Council; A.R.T./New York's NYC Small Theatres Fund made possible with support from the Howard Gilman Foundation & support for ASL interpretation provided in part through funding from Access A.R.T./New York.
ACCESS: ***IRT is a fully wheelchair-accessible facility. Please reach out to Kori Rushton if you have any accessibility questions or concerns, krushton@irttheater.org ***