Langbernie Enterprises LLC
Sacred and Profane Love
&nbsp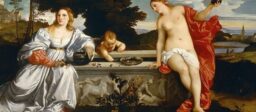 June 17-19 2022
IN RESIDENCE: June 14 – 20, 2022
Based on Bernie Langs's 2021 music composition, IRT Theater's staging of Sacred and Profane Love presents a unique environment for meditation on the mystic and interpersonal struggles between earthly and celestial love. The original lyrics, alluding at times to passages penned by history's finest writers and poets, will be sung live by six vocalists to the song's backing track. The show's accompanying video features films and photos of beautiful art, architecture, and landscapes taken at home and abroad by Bernie and his wife, Joanne. By combining dance, music, film, and vocal elements, Sacred and Profane Love promises to be a lively, positive experience for all.
WORKSHOP:
Saturday June 18, two shows: 4:00 PM and 7:00 PM
Sunday June 19, 1:30 PM
LENGTH OF SHOW: 40 Minutes
PRICE: Donations Accepted at the door
At IRT:154 Christopher st. NYC #3B (third floor)

Production team:
Bernie Langs, composer, videographer, assistant to the Co-Directors and Music Director
Liz Piccoli and James Clements, Co-Directors
Bill Millard, Music Director, assistant to the Co-Directors
Rob Fragnito, Sound Manager
Brett Gingold, Artist for video and stage design
Jordan Langs, Program designer
Joanne Murphy, Additional photos and films for video
Performers:
Sacred Love: Ava Chenok
"Shadow" of Sacred Love: Arianne Banda
Profane Love: Greg Sim
"Shadows" of Profane Love: Micah Jeremiah Mims and Dara Orland
Greek Chorus and Omniscient: Bill Millard
Violinist: Xiaoqing Zhang (Mao)
Sacred and Profane Love is a stage production of the "rock-operatic" work of music composed and recorded over three years by Bernie Langs with assistance from several vocalists. The play visualizes the music's many themes by presenting six live singers as embodiments of various ideas and concepts presented in the song cycle. "Sacred Love", a female goddess-like persona, shares harmonies and echoes with her "Shadow" vocalist, presenting deep-seated Forms and emotions of the feminine aspect of Ideal Love. The counterpart and male lead, "Profane Love", is joined by two shadows, representing his masculine and feminine aspects and complexities.
"Profane Love" may (or may not) be doomed to live his life confined within veiled, shifting parameters of terrestrial confusion, leading to his diminished, weary body and soul left to feed on what appear to be vital issues of politics or religion but are always proven to be pointless distractions blinding him from an easily attained "Sacred Love". The mirages of false ideals and a tendency to drown thoughts of love in drink or opium, may (or may not) destroy any attainment of understanding of basic emotions and feelings. In the end, they might hinder the securing of purposeful relationships with any and all "Others" in a state of bliss amid mutual Love.
These five performers, several of whom present the ideals with dance movement onstage, are joined in the play by another vocal character who serves as both "Greek Chorus" and all-knowing "Omniscient." The production will have the backing track to accompany the live singers and a solo violinist onstage to enrich the music. Synched to the song is an accompanying video created by Bernie, displaying mostly photos and films from home and abroad serving as a display of beautiful landscapes, inspiring works of art going back to ancient times, as well as classic architecture and religious sites from several of Europe's great cities. The video includes numerous paintings by the artist Brett Gingold. As the video works as the unconscious expression of the music and vocals, Brett's abstractions bring forward the unconscious of that unconscious.
As serious as it all sounds, the message is positive and uplifting as a modern, "rock music-centric" meditation of themes that have resonated throughout centuries of all civilizations. "A splendid time is guaranteed for all."
Bernard Langs, Composer and Video Artist
Bernie Langs began writing songs in 1974 with his friends, Peter Weidman and James Koch. Peter and Bernie played original music in a band, The Pepitones, during Boston's golden years of punk rock, 1979-1981 with David Hochhauser on guitar, Dermot Conley on drums, and Bill Millard (see below) on bass. Bernie, Bill and David next performed in the band Second Strike with with Dr. Douglas Moore, M.D., on drums. Bernie lives in Gillette, NJ with his wife, Joanne, and daughter, Jordan. He has over 20 self-published novellas on the Amazon Kindle Store, maintains a SoundCloud page for his original and cover songs, and has dozens of music videos on YouTube.
SoundCloud: https://soundcloud.com/bernie-langs
YouTube with selected videos: https://www.youtube.com/user/langsb1/videos
Amazon author page: https://www.amazon.com/Bernard-Langs/e/B06XCGPGJ4?ref=sr_ntt_srch_lnk_5&qid=1651338886&sr=1-5
Liz Piccoli – SDC Director/Choreographer/Teaching Artist
Select previous credits include: Director/Choreographer/Dramaturg for Spandex the Musical– The Audio Musical mixed by Tony Award winning Kai Harada , starring Broadway's Lisa Howard and Catherine Ashmore Bradley, written by Daniel Levin, live productions Off-Broadway at 777 Theater and at the Miinnsky Theater in Minneapolis (www.spandexmusical.com,)  Director/Choreographer for Billy Elliot starring Braden King and Mary Ellen Ashley at the Axelrod Theater in NJ, Director/Choreographer for Cinderella and Footloose at the Okoboji Summer Theater in IA and SDC Observer for Lysistrata Jones at the Judson Memorial.  She was the Assistant Choreographer for the TVLand Awards Opening featuring Liza Minnelli and choreographed the opera Goyescas for Bare Opera in Brooklyn and The Little Prince in Milan, Italy.  She recently choreographed Miss Saigon at the University of HI, in Oahu for Ohana Arts.  Liz is thrilled to Co-Direct/Choreograph Bernard Langs' Sacred and Profane Love at IRT with James Clements. She currently resides in Woodstock, NY with her husband Michael and her 3 pups. Zaide, Trixie and Chester.  www.lizpiccoli.com
James Clements – Co-Director
James Clements is a Scottish director, actor and writer based between New York and the UK. He creates source-based experimental plays that re-examine and re-contextualize historical figures, moments, and movements for our contemporary context. www.james-clements.com.
Bill Millard – Musical Director & performing as Greek Chorus/Omniscient
Bill Millard is active in New York independent rock and roll as bassist, singer, and songwriter in Shanghai Love Motel and bassist in Henge. His previous musical projects include playing alongside Bernie Langs in two Boston bands, the Pepitones and Second Strike. As a freelance journalist, he covers architecture, urbanism, and health, contributing to the Architect's Newspaper, Oculus, Architectural Record, Metals in Construction, Annals of Emergency Medicine, the Office for Metropolitan Architecture's Content, and other publications; in the 1980s and 1990s he wrote an award-winning music column for the Forbes Newspapers chain in New Jersey while teaching and earning a PhD in English and American literature at Rutgers and playing, singing, and writing in another group of musician-scholars, the V-Men. His book The Vertical and Horizontal Americas, launched with a Graham Foundation research grant and examining the cultural, political, and environmental effects of density and sprawl in the U.S., is moving (glacially) toward completion.
Brett Gingold – Artist for Scenery, Program and Video
Brett Gingold is a sculptor, painter, and visual medium artist. He has been living in Greenwich Village since the 1980's. A self-taught artist, he began producing "outsider" art in 2008. Brett and Bernie Langs recently published their first art/poetics book and plan to continue their collaborative efforts.
Website: https://www.brettgingold.com
Rob Fragnito, Sound Manager
Rob Fragnito is a multi-instrumentalist, producer and composer from North New Jersey. He graduated from The Collective School of Music in Manhattan with a degree in Percussion Performance and Music Theory. As a drummer and keyboardist, he's worked with countless acts from New York and New Jersey. He's worked on many projects including a solo album, composing for independent films and producing for various musical artists. His current band, Moon Rabbit Retreat is set to release an EP this year. Rob mixed the original version of the composition, Sacred and Profane Love.
IRT Theater is a grassroots laboratory for independent theater and performance in New York City, providing space and support to a new generation of artists. Tucked away in the old Archive Building in Greenwich Village,  IRT's mission is to build a community of emerging and established artists by creating a home for the development and presentation of new work.
This program is supported, in part, by public funds from the New York City Department of Cultural Affairs in Partnership with the City Council, New York State Council on the Arts, support for captioning and ASL interpretation provided in part through funding from Access A.R.T./New York, a program of the Alliance of Resident Theatres/New York (A.R.T./New York)