Oldest Boys Productions in association with Accidental Repertory Theater
Round Dance
&nbsp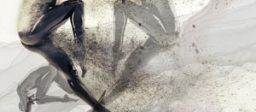 March 10-27 2022
IN RESIDENCE: March 1 – 28, 2022
Social turmoil acquaints one with strange bedfellows, to paraphrase Shakespeare. Whether in turn-of-the-century Vienna when "Reigen" was written, or in the post-Cold-War US, or the present day, when assumptions and social conventions start to shift, people reach out for comfort, companionship, and diversion across boundaries of class, age, and sensibilities. In Round Dance, each of ten characters drawn from every stratum of society has an encounter with two other characters, exposing the laughter, tears, truths, and contradictions of the timeless quest for love, connection, and gratification. First performed in 1920, the ensuing scandal led playwright Arthur Schnitzler to withdraw the work from publication in German-speaking countries. It remained popular elsewhere in Europe, but was only released again for German performances in 1982, forty years after Schnitzler's death. Fellow Viennese Sigmund Freud had written to Schnitzler, "You have learned through intuition – though actually as a result of sensitive introspection – everything that I have had to unearth by laborious work on other persons."
*Covid-19 Proof of Vaccination required for entry – more information below.

PERFORMANCES:
3/10, 11, 12, 17, 18, 19, 24, 25, 26 – 7pm
3/12, 13, 19, 20, 26, 27 – 2pm
LENGTH OF SHOW: 2 hrs 
PRICE: $30
At IRT:154 Christopher st. NYC #3B (third floor)
Translated and Directed by H. Clark Kee
Lighting Design: Elizabeth M. Stewart
Choreographer/Intimacy Coordinator: Kayla Yee
Stage Manager: Tricia Navigato
With:
Ruth Guimera
Taylor Hadsell
Judy Krause*
Mark Peters*
Christopher Pio
Mike Roche*
Samantha Simone*
JP Stewart*
Shannon Stowe*
Jonathan Wong Frye*
*Appear courtesy of Actors Equity Association
Producers are applying to present "Round Dance" as an Equity Approved Showcase.
CONTENT WARNING:
Includes depictions of alcohol use and sexual situations.
Clark Kee (Translator, Director) attended second grade in Marburg, Germany, beginning what would become a lifelong interest in German language and culture. At Yale he studied literature with Peter Demetz and directing with Nikos Psacharopoulos. He began his professional theater career in the 70s as an assistant director and actor with the Williamstown Theater Festival's Second Company. After a stint as assistant to Lynne Meadow at the Manhattan Theatre Club he founded West-Park Theater in NYC, producing updated classics and new works including two by Oscar-winner Ted Tally. Two of Clark's translations from the German were produced at West-Park: Kandinsky's "Yellow Sound," and Büchner's "Leonce and Lena." In 2006 Clark joined John Strasberg's Accidental Repertory Theater (ART), and currently serves as Administrative Director. He directed "The Fool's Lear," his adaptation of Shakespeare's "King Lear," at IRT in 2019. "Round Dance" was developed in part in the ART professional workshop, and the Theater for the New City Writer's Workshop.
Accidental Repertory Theater (Associate Producers) ART evolves from the artistic roots of the Moscow Art Theater, the Group Theater, and The Actors Studio. The deeply personal work that defines realistic theater has existed in great artists from all periods of history, and many cultures. It exists in all styles and forms, because reality is the human experience and knowledge that the artist expresses in the work. ART is a not-for-profit tax exempt 501(c)3 theater company founded in 2005 by John Strasberg as a practical expression of the Organic Creative Process, which he developed.
IRT Theater is a grassroots laboratory for independent theater and performance in New York City, providing space and support to a new generation of artists. Tucked away in the old Archive Building in Greenwich Village,  IRT's mission is to build a community of emerging and established artists by creating a home for the development and presentation of new work.
COVID PROTOCOL: 
This performance will be seated at full capacity without social-distancing. All guests (ages 2+) are required to wear a face-covering, regardless of vaccination status and must show proof of vaccination. However, performers will not be masked.
There are multiple ways to show proof of vaccination.
1. A photo or hard copy of their CDC vaccination card
2. NYC COVID Safe App
3. New York State Excelsior App
4.Official vaccine record
5. A photo or hard copy of an official vaccination record of a vaccine administered outside the United States for one of the following vaccines: AstraZeneca/SK Bioscience, Serum Institute of India/COVISHIELD and Vaxzevria, Sinopharm, or Sinovac.
This program is supported, in part, by public funds from the New York City Department of Cultural Affairs in Partnership with the City Council, New York State Council on the Arts, additional funding provided in part through  Alliance of Resident Theatres/New York (A.R.T./New York)
PLEASE NOTE: All sales final and there is no late seating at IRT Theater.