IRT Theater, Amanda Gronich & Samuel Adams
MYTH IN MOTION: EXPLORING HADES AND PERSEPHONE
&nbsp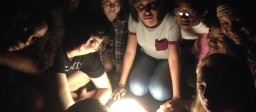 July 16 2016
3B Development Series | Westside Experiment
In Residence: July 5- 16, 2016
IRT's Westside Experiment has joined Amanda Gronich & Samuel Adams as they lead students grades 6-12 through an incredible development process resulting in a show at IRT!
Share in a lively celebration of a classic story brought to new theatrical life. Our special presentation showcases IRT theater students' dramatic imaginations…as they explore this famous myth. Delving into the key elements of theater – light, sound, costume, movement, character and plot – each participant has devised a unique storytelling 'moment' taken from the story. What makes this ancient tale as meaningful today as it was over two millennia ago?  Our students have uncovered their own theatrical revelations…each one inventive, surprising and engaging.
Workshop Showings:
Saturday July 16 11:30am and 1:30pm
At IRT: 154 Christopher st. #3B (third floor)
$15 Tickets
$10 Senior and Student Discount
All purchased tickets support our financial aid fund for Westside Experiment
– Running time 40 minutes.
Featuring:
Neal Whitney
Kijani-Ali Gaulman
Patrick Inosanto
Marcus Byers
Yosef Ibrahim
Jaden Schneider
Danielle Kiminyo
Mia Katz
Angelina Serrano
Ishari Bishop
Zaivera Bussey
Rayna Brown
Gabriella Schneider
Lead teaching artists include:
Amanda Gronich (Tectonic Theater) – Lead teaching artist, began her theatrical career as a charter member of the Tony Award-winning Tectonic Theater Project, where she became one of ten original cast members who traveled to Laramie, Wyoming and co-created The Laramie Project. She currently teaches theatrical storytelling and playdevising techniques to graduate Arts Education majors at City College. She is also an experienced acting coach. Prior to this, Amanda worked as an Emmy-nominated non-fiction television writer, developing, scripting and story-producing dozens of hours of top-rated cable series and specials.
Samuel Adams (Spit&Vigor)- Lead teaching artist, is thrilled to be joining IRT's Westside Experiment! Samuel works an actor, director, teacher, and resident artist with Spit&Vigor. Born in Manhattan and raised on a farm in the Catskills, he trained at Adelphi University and studied classical theater at the London Dramatic Academy. As a director, he has worked with many New York City theater companies that focus on experimenting with the boundaries between audience and actors, such as Island Shakespeare, Rapidfire Bootleg, and the Ophelia Theater Group. As an actor, he has performed off-broadway at Theater Row and The Symphony Space, in productions regionally, and across NYC (including the award-winning 2015 production of In Vestments, written by Spit&Vigor's artistic director Sara Fellini). With a special love of the classics, Sam has performed in over a dozen plays of Shakespeare, including leading roles in Hamlet, As You Like It, King Lear, and The Taming of the Shrew. Film work includes starring roles in several indie films, several national commercials, as well as supporting roles in HBO's Boardwalk Empire and Mildred Pierce. Most recently, he did voice-over and motion-capture for a featured character in an upcoming video game, which he's eager to play once it's finally released. For the past several years, Samuel has worked as a teaching artist with Stages on the Sound, teaching theater arts to students at Catholic Schools across Queens and Brooklyn. Samuel is a proud member of Actor's Equity and SAG-AFTRA, and is represented by Atlas Talent. 
Monique Holt- Guest Teaching Artist, is also a performer, director, acting coach, script translator (including Shakespearean text to artistic sign language), visual/tactile interpreter and Director of Artistic Sign Language (DASL) working with interpreters interpreting the shows. For 8 years, she worked as a guest teaching artist for MTC/Theatre Education Program and TDF/Theatre Access Project – Education Program. Under TDF, , she visited 22 'K-12? public/private schools and bring the students to see the Broadway matinee shows.  Her trainings came from Merce Cunningham, Butoh, Commedia dell'Arte, Grotowski, Visual Gestural Communication (VGC) and Visual Vernacular (VV). She got her BFA in Acting, NYU and MFA in Theatre, Towson University.