ICE FACTORY One-Eighth & IRT Theater
My Onliness
&nbsp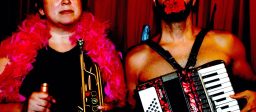 August 11–14 2021
3B Development Series | ASL Creative
IN RESIDENCE: July 18–August 14, 2021
A mad King performs his royal power as an act of martyrdom, in a desperate attempt to impress a mysterious petitioner. While a Master of Ceremony orchestrates songs of torture, truth, and tenderness. (The poor Writer is simply collateral damage!) Is this a glimpse of our dystopian future? Or just the structure of human consciousness? An homage to Stanislaw Witkacy and his theories of "pure forms in theatre".
Performed with American Sign Language interpretation.
A new collaboration between Daniel Irizarry and Robert Lyons, following the international success of Yovo – NYC/Poland/Cuba.
Text and Lyrics by Robert Lyons (from Witkacy)
Directed by Daniel Irizarry
Composer Kamala Sankaram
Director of American Sign Language – Alexandria Wailes
Producer- Kori Rushton and IRT Theater
With: Cynthia La Cruz, Dickie Hearts, Amelia Hensley, Daniel Irizarry, Kamala Sankaram, Rhys Tivey
PERFORMANCES:
August 11 – 14, 2021 @7pm
LENGTH OF SHOW: 65 minutes
PRICE:
General Admission $20
Students/Senior $17
At New Ohio Theatre:154 Christopher st. NYC
ABOUT THE COMPANIES
One-Eighth Theater has been creating new, bold, international theater since 2008. One-Eighth has been both a New York Times and Time Out New York critics pick, developed work as a part of the New Ohio Theater and IRT's Archive Residency, a four year Residency at INTAR Theatre, and two residencies with Mabou Mines. Artistic director Daniel Irizarry has directed The Inspector General at NCPA in Mumbai, India, staged the world premiere of Witkacy's The Madman and The Nun with Turkish actors in Ankara, Turkey and the World premiere of Mishima's Busu at the Tennessee Williams Festival in Provincetown, USA. Traveling and connecting is the key to our company and we have proudly shared sweat all around the world- offering acting Labs and kicking ass sharing theatrical pieces along the way!
IRT Theater is a grassroots laboratory for independent theater and performance in New York City, providing space and support to a new generation of artists. Tucked away in the old Archive Building in Greenwich Village, IRT's mission is to build a community of emerging and established artists by creating a home for the development and presentation of new work. Producing Artistic Director: Kori Rushton.
My Onliness is made possible by the New York State Council on the Arts with the support of Governor Andrew M. Cuomo and the New York State Legislature; and the New York City Department of Cultural Affairs.