terraNOVA Collective & Terri Girvin
Last Call
&nbsp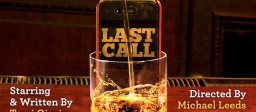 October 9 - November 1 2015
3B Development Series | Productions
IN RESIDENCE: September 29- November 2 2015
terraNOVA Collective is proud to present the perfect collaboration between Broadway director Michael Leeds, indie record producer and sound designer Phil Palazzolo, and renowned actor and stand up comic Terri Girvin. Set during one chaotic shift at a bustling NYC bar, Terri pours drinks for her needy and quirky customers while fending off phone calls from her about to be homeless mother. Alone on stage, without a single prop, bottle, or glass, Terri's entire world is created flawlessly through physical movement and an intricate, highly integrated soundscape. Based on real life experiences, stories and actual customers LAST CALL is an energetic play about family, about boundaries and about how much to tip. An incredible marriage between action, stand-up and sound it is a meticulously crafted and funny piece of theatre.
PERFORMANCES:
October 9 – November 1 2015
Thursday, Friday, Saturday, Sunday and Monday
Added Performances:
Wednesday 28th-7pm, Saturday 17th & 24th- 2pm, Friday 30th-10pm
No Show:
Saturday 31st
TIME: 7pm
LENGTH OF SHOW:80 minutes, no intermission
PRICE: $25.00
At IRT:154 Christopher st. NYC #3B (third floor)
TERRI GIRVIN (Creator and Performer) After having bartended for over 20 years at many of Lower Manhattan & Brooklyn's favorite bars, TERRI GIRVIN is thrilled and proud to continue the work on Last Call after it's critically acclaimed South Florida productions. As an actor, she's worked a ton regionally – Peter Pan (Peter – Virginia Stage Co.), Paper Moon (Ford's Theatre), Off Broadway – Hysterical Blindness (Soho Playhouse) to name a few. Terri is also a stand up comedian having worked at most of the clubs in New York City. She was featured in the New York Times Magazine food and drink issue as one of Brooklyn's trailblazing bartenders.
MICHAEL LEEDS (Director) wrote and directed Swinging On A Star on that was nominated for a Tony Award for Best Musical. Off Broadway he garnered a Drama Desk Award nomination for Best Director/Best Choreographer for his work on Hello Muddah, Hello Faddah – The Songs of Allan Sherman, as well as honored with the Edinburgh Fringe Festival First Award for the European premiere of Arthur Miller's Playing For Time. He has directed over fifty productions in New York City and South Florida including numerous World Premieres, earning the prestigious Carbonell Award as well as the Silver Palm Award for Directing. (www.LeedsWorkshop.com)
PHIL PALAZZOLO (Sound Design) Most recently worked along side Tim O'Heir on the sound for "Hedwig and the Angry Inch" starring Neil Patrick Harris, Phil Palazzolo is primarily an indie record producer. Along with numerous other indie bands, he produced and engineered The New Pornographers albums Challengers and Together and his work with Neko Case has garnered three Grammy nominations, including Best Indie Music Album.
'an autobiographical tour de force.' – The New Times
'Astonishing…Highly-Polished Performance…Entertaining and intriguing.' – Florida Theater Onstage
'One hell of a cocktail' – Sun Sentinel
IRT Theater is a grassroots laboratory for independent theater and performance in New York City, providing space and support to a new generation of artists. Tucked away in the old Archive Building in Greenwich Village, IRT's mission is to build a community of emerging and established artists by creating a home for the development and presentation of new work. Some of the artists we have supported include Young Jean Lee, Reggie Watts and Mike Daisey.
This program is supported, in part, by public funds from the New York City Department of Cultural Affairs, Office of Council member Corey Johnson and The Nancy Quinn Fund, a project of ART-NY.