LOBSQD
IT'S NOT LIVING
&nbsp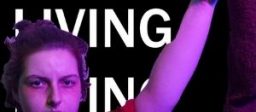 January 15 2022
IN RESIDENCE: January 10 – 17, 2022
A devised theater performance exploring the lengths we'd take to silence our past, in order to move on from the one monster we can't let go.
PERFORMANCES:
Saturday 1/15 @ 7 pm
LENGTH OF SHOW: 45 minutes
PRICE: FREE
At IRT:154 Christopher st. NYC #3B (third floor)
LOBSQD is an artistic collective composed of Charlie Chauca, Luis Feliciano and Kristen Hofffman. Follow LOBSQD on Instagram, @LOBSQD
Charlie Chauca (he/him) is a New York based theater artist and currently a 22' Fellow at Playwrights Horizon. Follow Charlie on Instagram, @charliechauca
Previous directing credits includes: "¿Cómo puedo amarme?", "Misfit, America", "A Christmas Carol: Radio Play", "Paper Towels".
Luis Feliciano (he/him) is an artist that constantly looks to expand his creative outlets as he sees his work as an opportunity to connect with the larger world around him. He has studied Acting, Writing, & Directing at Hunter College and trained in Lecoq Pedagogy with Movement Theater Studio. More recently, he has been interested in music (in particular — the guitar!) as well as long form writing. Follow the journey on Instagram, @Leezusprime.
Kristen Hoffman is a multi-disciplinary artist from South Florida and a recent graduate of Hunter College's Theater program. Kristen has primarily worked as an actor, and over the last two years has begun exploring the range of their artistic voice through different art forms such as photography, writing, movement, and film making. Curious about the world around them, Kristen finds much excitement in challenging the idea of the mainstream, and playing with elements of chaos. Follow Kristen on Instagram, @TheKristenHoffman.
Recent works include: The Sex Myth: A Devised Play, Grow as We Grow (a photo-documentary of personal growth over the first year of the pandemic), By the Pool (a performance art documentation via video sketchbook exploring themes of religion, childhood, domestic life, family, and identity). THIS YEAR, You can catch Kristen in two new films set to release in 2022 – Julius Caesar, An adaption by The Apocalyptic Artists Ensemble, and 20 Years Later, A docu-theatre film by DocBlocProjects.
Previous credits include: The Sex Myth: A Devised Play (Ensemble Director), This Sinking Island (Ensemble/Edy), What Happened to Peter's Peter? (Peter).
IRT Theater is a grassroots laboratory for independent theater and performance in New York City, providing space and support to a new generation of artists. Tucked away in the old Archive Building in Greenwich Village, IRT's mission is to build a community of emerging and established artists by creating a home for the development and presentation of new work.
This program is supported, in part, by public funds from the New York City Department of Cultural Affairs in Partnership with the City Council, New York State Council on the Arts, additional funding provided in part through Alliance of Resident Theatres/New York (A.R.T./New York)