KAREEM M. LUCAS
iNegro, a rhapsody
&nbsp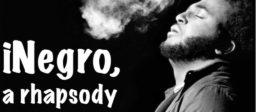 Apr 28–May 14 2022
3B Development Series | Archive Residency | Productions
Written and Performed by Kareem M. Lucas
Production Concept – Stevie Walker-Webb
Presented by New Ohio Theatre an Archive Residency premiere in partnership with IRT Theater
Born of disillusionment and a fierce self-excavation, Kareem M. Lucas's Afro-surrealist solo show, iNegro, a rhapsody, takes the audience on a hilarious and harrowing ride through a young Black man's consciousness as he carves out the space to wrestle with his community, his faith, his culture and himself.
Composer & Sound Designer – Mauricio Escamilla
Scenic Designer – David Goldstein
Costume Designer – Tyler Arnold
Please review our website for up-to-date COVID protocols. Currently, you must show proof of full vaccination to watch the performance. You will be required to wear a mask, but performers will not be masked.
PERFORMANCES:
April 28 – May 14, 2022
Thursday-Sunday
Thursday & Friday 7:30pm
Saturday 4pm & 7:30pm
Sunday 4pm
LENGTH OF SHOW: TBD
PRICE:
General$26.00
Student / Senior Discount$19.00
At New Ohio Theatre:154 Christopher st. NYC #1E
iNegro is a thrilling verbal dance and a poetic, vulgar subversion of the sacred culminating in a wondrous act of surrender and salvation. It reminds us that we can save ourselves. inspiring, intricate, intense, intoxicating, inciting, iNegro.
iNegro, a rhapsody, is a part of a trilogy of solo shows written and performed by Kareem M. Lucas. The name of the trilogy is "3 Ages of a Negro." Other parts of the trilogy have been workshopped at the Cherry Lane Theatre as part of its 2019 Mentor Project, Next Door at New York Theatre Workshop, the Under The Radar Festival at The Public Theater, among others. This production is dedicated to the memory of the late Craig muMs Grant, his mentorship was instrumental to the development of the trilogy. We love you, muMs.
Kareem M. Lucas is a Brooklyn born and Manhattan based Actor/Writer/Producer/Director. His solo pieces include iNegro, a rhapsody, Black Is Beautiful, But It Ain't Always Pretty, RATED BLACK: An American Requiem, From Brooklyn With Love, A Boy & His Bow, and A Warm Winter. Kareem's performed his work at The Public Theater, New York Theatre Workshop, American Repertory Theater, The Fire This Time Festival, Rattlestick Playwrights Theater, HERE Arts Center, Hi-ARTS, among others. He's an inaugural Jerome Hill Artist Fellow and a Usual Suspect at NYTW. MFA: NYU Graduate Acting Program. For more info visit www.KareemMLucas.com or on Instagram @KareemMLucas.
Stevie Walker-Webb is an Obie Award-winning Director, Playwright and Cultural Worker who believes in the transformational power of art. He is Founder of HUNDREDSofTHOUSANDS, an arts and advocacy non-profit that makes visual the suffering and inhumane treatment of incarcerated mentally ill people and the policies that adversely impact their lives. He is a recipient of the Princess Grace Award for Theatre, The Lilly Award in honor of Lorraine Hansberry awarded by the Dramatists Guild of America, and a 2050 Fellow at New York Theatre Workshop. Stevie's served as the Founding Artistic Director of the Jubilee Theatre in Waco, Texas and has created art and theatre in Madagascar, South Africa, Mexico, Mississippi and across America. He's worked as the Outreach Coordinator for Theatre of the Oppressed-NYC. His work has been produced by The Public Theatre, The New Group, American Civil Liberties Union, National Black Theatre and Zara Aina. For more info about Stevie visit steviewalkerwebb.com.
Mauricio Escamilla, MOWRI, is a sound design artist, music producer, composer, drummer, percussionist and audio engineer based in Brooklyn. Having a decade of experience composing and designing for theatre, film, commercial and live music performance, MOWRI thrives within creative collaboration and experimental applications. As a first-generation artist of Central American immigrant parents, MOWRI focuses his creative energy and expertise in collaboration with primarily Black and Indigenous artists of color. MOWRI holds both a BFA in Kinetic Imaging from VCU in Richmond, Virginia, as well as a Masters of Science in Sound Design through The University of Edinburgh, Scotland. Mauricio has mixed, designed and composed for The Billie Holiday Theatre, The Lark, Cherry Lane, Powerhouse, Soho Rep and Long Wharf Theatre. http://www.mescamilla.com