THE ASSEMBLY
Archive Residency-I WILL LOOK FORWARD TO THIS LATER
&nbsp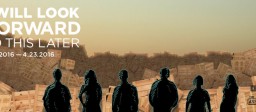 April 4- 23 2016
3B Development Series | Archive Residency | Productions
IN RESIDENCE: 2014- 2016
The Great Man is dead.
The family of Wyatt Holloway, American novelist, squints into the light where his shadow used to be. What is his legacy, and is it possible to create a new, better order of things?
I WILL LOOK FORWARD TO THIS LATER is a bitingly funny and tragic examination of art-making and evolution. Inspired by Kabuki theater and interviews with our mentors, The Assembly and a multigenerational ensemble ponder the mysteries of bourbon, coffee, and what makes a meaningful life.
New Ohio Theatre & THE ASSEMBLY Present BODY: ANATOMIES OF BEING
AN ARCHIVE RESIDENCY PRODUCTION,
in collaboration with IRT Theater
Text by Kate Benson and Emily Louise Perkins
Directed by Jess Chayes
Dramaturgy by Stephen Aubrey
Production Design by Nick Benacerraf
PERFORMANCES: April 4- 23, 2016 
TIME: Wednesday – Saturday at 7 PM
PRICE: Tickets $18 / $15 Students and Seniors
At New Ohio :154 Christopher st. NYC #1E
Featuring: Edward Bauer, Ben Beckley*, Vinie Burrows*, James Himelsbach*, Linda Marie Larson*, and Emily Louise Perkins*
"A cutting-edge young theatre collective"
– New York Times
Costume Design: Kate Fry
Lighting Design: Christina Watanabe
Sound Design: Asa Wember
Movement Direction: Katie Rose McLaughlin
Creative Consultant: Barbara Samuels
Production Stage Manager: Megan Sprowls
ASM: Hanako Rodriguez
Movement Direction: Katie Rose McLaughlin
Producer: Lucy Jackson
Associate Producer: Emily Caffery
THE ASSEMBLY is a collective of multi-disciplinary performance artists committed to realizing a visceral and intelligent theater for a new generation. Assembly members unite our varied interests in service of wide-reaching, unabashedly theatrical and rigorously researched ensemble performances that address the complexities of our ever-changing world. The company embraces collaboration as the core of the creative process, allowing all the elements of text, action and design to develop side-by-side within the rehearsal environment. The Assembly is dedicated to rooting its artists, audiences, and peers in a profound sense of community.

The Assembly has created seven original works, including HOME/SICK (2011), a New York Times Critics' Pick. The company has performed at venues across New York, such as The Incubator, The Prelude Festival, HERE Arts Center, and The Collapsable Hole, and has toured to Wesleyan University, the Edinburgh Fringe Festival and the Philadelphia Fringe Festival. This summer, HOME/SICK will tour to the Odyssey Theatre in Los Angeles.
I WILL LOOK FORWARD TO THIS LATER was commissioned and developed through the Archive Residency, a program of New Ohio Theatre and IRT Theater.