Dangerous Signs in collaboration with Push Physical Theatre
&nbsp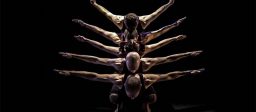 January 5-9 2022
3B Development Series | ASL Creative
IN RESIDENCE: January 5-9 2022
Dance/Physical Theater Residency: "Devising Theater" creating theater using ASL and physical expression.
"He drew a circle that shut me out-
Heretic, rebel, a thing to flout.
But love and I had the wit to win.
We drew a circle and took him In!"
From the poem "Outwitted"
― Edwin Markham
Dangerous Signs members: Luane Davis Haggerty, Matthew and Arthur Parsley, Ana Rojas, Camille Uadiale, Genny Callejo, Karen Tobin Johnson
Push Physical Theatre: Darren Stevenson and Ashley Jones
Darren Stevenson (Founding Artistic Co-Director, PUSHer), born in England and now a proud U.S. citizen, co-founded and leads what has become a world-renowned physical theatre company. In addition to being the season one finalist on TruTV's national series, Fake Off, many short works include "Red Ball," developed at RIT's NTID using iPad technology. Full-length works include PUSH Physical Theatre's DRACULA, Jekyll & Hyde, and Arc of Ages, as well as choreography for two multi-media operas: Comala and No Se Culpe (Don't Blame Anyone), the latter of which earned him the University of Rochester's 2017 Lillian Fairchild Award. Other honors include the "Community of Color" Black History Month Anton Germano Dance Award, honoring advocates for an inclusive and diverse community who affect positive change. Darren has also spoken about PUSH's unique creative process at TEDx Rochester
Ashley Jones (PUSHer) is a physical actor, deviser and director. He trained at Rose Bruford College and Academia Teatro Dimitri; before going on to train with Phillipe Gaulier and Angela De Castro in theatrical clowning. As a physical performer, Ashley has worked and trained with international theatre companies; Gecko Physical Theatre, The David Glass Ensemble, Nonsuch Theatre, and Frantic Assembly. His recent devised work includes: LifeHack (2019), Intotheclouds (2018), The Party's Over (2017), Eclipse (2017), the Russian Play (2017). As director; Ashley continues to develop and produce collaborative and inter-disciplinary devised work. His credits as director include Rite of Passage (2015,2016), EnCircled (2019) and TILT (2019). Ashley would like to thank the generous support of the Genesee Valley Council on the Arts and his previous awards include support from Wilton's Music Hall and Theatre Delicatessen.
Director of Dangerous Signs : Luane Davis Haggerty, Ph.D. (Director, Actor, Professor, interpreter) has a Ph.D. in Leadership and change through the arts; focused on Deaf theater. She was nominated for the 2007 Pulitzer Prize for her play "Windows of the Soul". She is a Principal Lecturer at RIT/NTID and was an original co-founder of the IRT theater in New York City. Awards for her direction which blend Deaf and hearing actors for over 20 years include: "Emperor Jones " which won the NYC Off Off Broadway Review Award, "A Midsummer Night's Dream" and "Little Shop Of Horrors" which won Rochester CITY newspaper's "Most Popular Local Theatrical Production" award. Her recent production for the National Technical Institute for the Deaf (NTID) "Fences" won the Kennedy Center College Theater Festival award for Excellence in Ensemble and three of the actors won nominations for the Irene Ryan acting award. She was recently featured in the Avant Guard production at IRT in New York's Greenwich Village titled YOVOs. She is honored to have been the first post Covid production of Rochester's Shakespeare in the Park with "The Tempest", nominated for the Broadway World Central New York category for innovative production.
IRT Theater is a grassroots laboratory for independent theater and performance in New York City, providing space and support to a new generation of artists. Tucked away in the old Archive Building in Greenwich Village, IRT's mission is to build a community of emerging and established artists by creating a home for the development and presentation of new work.
This program is supported, in part, by public funds from the New York City Department of Cultural Affairs in Partnership with the City Council, New York State Council on the Arts, support for captioning and ASL interpretation provided in part through funding from Access A.R.T./New York, a program of the Alliance of Resident Theatres/New York (A.R.T./New York)