BUILT FOR COLLAPSE
DANGER SIGNALS
&nbsp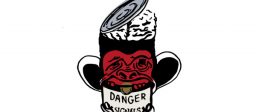 AUGUST 9 - 12 2017
3B Development Series | Archive Residency | Productions
A woman gives a lecture about the brain. A woman gives a lecture about a man and his brain. A woman bakes a cake. Fuck that. She does nothing like that. A woman puts on a large hat and plays at being a man, pushing a sharp object through the soft bit of an eye socket. Chalk dust falls from the ceiling and two monkeys talk about the ways that pain is processed by the brain. Becky and Lucy. Doctor Walter Freeman. War is coming. Count backwards from ten. Becky and Lucy. Becky and Lucy. Becky and Lucy. Becky and Lucy. Becky and Lucy. Becky and Lucy. War is coming, always. DANGER SIGNALS is a multidisciplinary fantasia about monkeys, brains and how we deal with our problems.
PERFORMANCES: Wednesday – Saturday at 7PM
PRICE: Tickets $20 / Students and Seniors $16
At IRT:154 Christopher st. NYC #3B (third floor)
Written by Nina Segal
Directed by Sanaz Ghajar
With: Misha Brooks, Jessica Almasy*, Lilly Brown, Eva Jaunzemis, Issa Best
Composer: Jen Goma
Scenic/Lighting Design: Elizabeth Mak
Costume Designer: Karen Boyer
Choreographer: Ben Hobbs
Video: Charlie Dennis
Animator: Tate Rehklau
Assistant Director: Gemma Josephine
Assistant Choreographer: Alexa Andreas
Producer: Jessica Schmidt
Production Stage Manager: Jess Dukatt
Built for Collapse is an award-winning theater company committed to building multi-disciplinary work that challenges theatrical form. They develop each project through a highly physical process inspired by found texts, visual art, and pop culture to create a live collage of the world and its stories. "An ambitiously subversive young troupe" (Time Out NY), they have developed work nationally and internationally with The Drama League, NYTW, BRIC Arts | Media House, Ars Nova, 3LD, Prague Film and Theater Center, and others.
IRT Theater is a grassroots laboratory for independent theater and performance in New York City, providing space and support to a new generation of artists. Tucked away in the old Archive Building in Greenwich Village, IRT's mission is to build a community of emerging and established artists by creating a home for the development and presentation of new work. Some of the artists we have supported include Young Jean Lee, Reggie Watts and Mike Daisey.
This program is supported, in part, by public funds from the New York City Department of Cultural Affairs, New York State Council on the Arts, and The Nancy Quinn Fund, a project of ART-NY.
PLEASE NOTE: All sales final and there is no late seating at IRT Theater.
***IRT is a fully wheelchair-accessible facility.***