Vampire Cowboys
Archive Residency-SIX ROUNDS OF VENGEANCE
&nbsp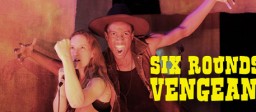 April 23-May 16 2015
3B Development Series | Archive Residency | Productions
IN RESIDENCE: December 2013- June 2015
New Ohio Theatre  & Vampire Cowboys's Present Six Rounds of Vengeance
Written by Qui Nguyen
Directed by Robert Ross Parker
AN ARCHIVE RESIDENCY PRODUCTION, in collaboration with IRT Theater
In a post-apocalyptic "Lost Vegas", an ex-lawman enlists the help of a young swordstress and her cursed strongman to help avenge the murder of his lover. However the gang they'll be going against has powers that go way beyond just gunpowder and steel. To get revenge, they may have to become just as blood-thirsty as the monsters they're facing.
PERFORMANCES: April 24-26, 30 May 1-3, 6-10, 13-16
TIME: 8pm
PRICE: $18.00
At New Ohio :154 Christopher st. NYC #1E
Vampire Cowboys is an OBIE Award winning "geek theatre" company that creates new works of theatre based in action/adventure and dark comedy with a comic book aesthetic. VC aims to bridge the gap between mass media entertainment and the performing arts, exposing the community to challenging, thought-provoking live entertainment rooted in today's pop-culture vernacular.
"Gleefully lowbrow entertainment for overgrown adults!"
— New York Times