K. Lucas/Levingston/Hare/Luckett
Archive Residency
&nbsp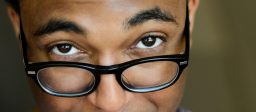 2019- 2022 Resident Company
3B Development Series | Archive Residency
In Residence: 2019-2022

New Ohio Theatre and IRT Theater are excited to welcome Kareem M. Lucas and the team of Zhailon Levingston, Alex Hare, and Nehemiah Luckett as our newest Archive Residency artists.
Since 2007, IRT Theater has served the downtown theater community by providing space, support and community for independent artists through its 3B Development Series. With the arrival of the New Ohio Theatre to the Archive Building in 2011, IRT has been blessed to have both a kindred spirit and philosophical forbearer move in right downstairs.
The Archive Residency offers two select independent theater companies a two year commitment of space, artistic support, and institutional continuity for the development and presentation of a new work. In other words, a home.
The residency includes two separate engagements in IRT's 3B Development Series and a one-week presentation in New Ohio's OBIE Award-winning Ice Factory summer festival. The residency culminates in the second year with a fully realized, four-week run in the New Ohio's main season.
Each company will receive financial, administrative, and artistic support for two years as they develop a new work from inception to World Premiere.
PRESS –
IRT THEATER/NEW OHIO THEATRE LAUNCHES RESIDENCY PROGRAM
-BACKSTAGE
IS THIS THE SECRET TO OFF-OFF BROADWAY SURVIVAL?
-TDF STAGES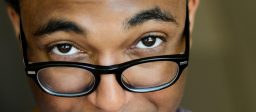 Kareem M. Lucas is a Brooklyn born and Harlem based Actor/Writer/Producer/Director. His solo pieces include "The Maturation of an Inconvenient Negro (or iNEGRO)", "From Brooklyn With Love", "RATED BLACK: An American Requiem", "A Boy & His Bow", and "Black Is Beautiful, But It Ain't Always Pretty". He has performed his solo work at The Greene Space, Aaron Davis Hall at City College, The Town Hall, Fire This Time Festival, IRT Theater, The Slipper Room, Teatro Circulo, Judson Arts Wednesdays, Hi-ARTS, AFO Theater, JACK, New York Theatre Workshop, The Public Theater, among others. He is currently co-collaborating on the immersive theatrical piece "The Black History Museum…According to the United States of America", as a writer/performer with the Smoke & Mirrors Collaborative as a part of their Residency at HERE Arts Center, it will premiere at HERE in November 2019. He most recently was a part of The 2019 Mentor Project at The Cherry Lane Theatre, where his solo show The Maturation of an Inconvenient Negro (or iNEGRO)" was mounted. He s also an inaugural Jerome Hill Artist Fellow and a NYTW 2050 Playwriting Fellow. MFA: NYU Graduate Acting Program.
This partnership between New Ohio and IRT will further establish the West Village's Archive Building as one of the premier destinations for the development and presentation of NYC's best and brightest theater makers.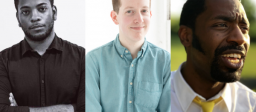 Levingston/Hare/Luckett
Zhailon Levingston (Co-Director, Co-Book Writer) is a writer/director. He recently directed Neptune at Dixon Place and the Brooklyn Museum and The Years That Went Wrong by David Zheng at The Lark and MCC. He is the Associate Director of Primer for a Failed Super Power, Annie Salem and Reconstruction with Tony Award winner Rachel Chavkin. He is also the US Associate Director of Tina: The Tina Turner Musical on Broadway.
Alex Hare (Co-Director, Co-Book Writer) is a director of new musicals (mostly) and the Associate Artistic Director of Corkscrew Theater Festival, which seeks to provide early-career artists with a high level of production support while reducing barriers to entry. In the works: Walt Whitman BodyJolt (developed at Barn Arts Collective and Corkscrew Downstairs) and You Can't Kiss a Movie (workshop production at HERE). Frequently an assistant to film director Bill Condon, Alex studied American Studies at Columbia University.
Nehemiah Luckett (Composer): Originally from Jackson, Mississippi, Nehemiah Luckett has been performing, composing and conducting for over 30 years. He has been a featured soloist at the National Cathedral and Carnegie Hall, and has performed all over the US and Europe. Currently, Nehemiah has three musicals in development, including (((Jazz Singer))) with Joshua William Gelb, premiering at Abrons Arts Center in September 2019. Nehemiah is the Music Director and Composer for Rev. Billy and the Stop Shopping Choir, a group of anti-consumerist gospel shouters and Earth loving urban activists who have worked with communities on four continents defending community, life, and imagination and resisting Consumerism and Militarism.
The Archive Residency is by invitation only. The best way for us to get to know your work and for you to get to know our work is to be a part of IRT's 3B Development Series and/or New Ohio's Ice Factory and/or invite us to see productions of your work.