Byzantine Choral Project and Radical Evolution 
Archive Residency
&nbsp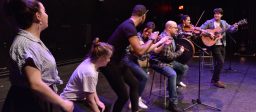 2018- 2022 Resident Company
3B Development Series | Archive Residency
In Residence: 2018- 2022

New Ohio Theatre and IRT Theater are proud to announce that Byzantine Choral Project and Radical Evolution will be an Archive Resident from 2018 – 2022.
Since 2007, IRT Theater has served the downtown theater community by providing space, support and community for independent artists through its 3B Development Series. With the arrival of the New Ohio Theatre to the Archive Building in 2011, IRT has been blessed to have both a kindred spirit and philosophical forbearer move in right downstairs.
The Archive Residency offers two select independent theater companies a two year commitment of space, artistic support, and institutional continuity for the development and presentation of a new work. In other words, a home.
The residency includes two separate engagements in IRT's 3B Development Series and a one-week presentation in New Ohio's OBIE Award-winning Ice Factory summer festival. The residency culminates in the second year with a fully realized, four-week run in the New Ohio's main season.
Each company will receive financial, administrative, and artistic support for two years as they develop a new work from inception to World Premiere.
PRESS –
IRT THEATER/NEW OHIO THEATRE LAUNCHES RESIDENCY PROGRAM
-BACKSTAGE
IS THIS THE SECRET TO OFF-OFF BROADWAY SURVIVAL?
-TDF STAGES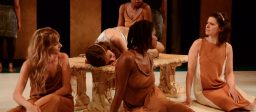 The Byzantine Choral Project is a dynamic collaboration between playwright Helen Banner, composer Grace Oberhofer and director Colette Robert to make theater using women's voices. Inspired by the Byzantine Empresses Irene, Maria and Euphrosyne they are creating work that showcases the radical power of strong, diverse women+ singing on stage and explores the importance of imagery, representation and iconoclasm in classical and contemporary life. For more info: byzantinechoralproject.com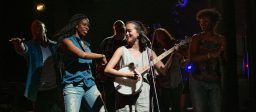 Radical Evolution is a multi-ethnic producing collective committed to creating artistic events that seek to understand the complexities of the mixed-identity existence in the 21st Century. We advocate for the visibility and representation for the fastest growing demographic in our nation – those who identify as more than one race or ethnicity. We aim to seed the field of downtown theatre with artists of color and assert our vision for cultural and social equity in our field, city, and nation.
This partnership between New Ohio and IRT will further establish the West Village's Archive Building as one of the premier destinations for the development and presentation of NYC's best and brightest theater makers.
The Archive Residency is by invitation only. The best way for us to get to know your work and for you to get to know our work is to be a part of IRT's 3B Development Series and/or New Ohio's Ice Factory and/or invite us to see productions of your work.