The Mad Ones
Archive Residency-THE ESSENTIAL STRAIGHT & NARROW
&nbsp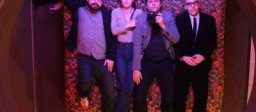 May 6- June 14 2014
3B Development Series | Archive Residency | Productions
In Residence: September 2012-June 2014
THE ESSENTIAL STRAIGHT & NARROW / The Mad Ones – The latest from the Drama Desk-nominated The Mad Ones: a lo-fi ode to the Kodachrome 1970s, rock and roll antics, and the mystical American Southwest. The Essential Straight & Narrow recalls a roadside layover in Pinos Altos, New Mexico, where passing the time becomes reliving the past. Between original country rock song, bouts of $10,000 Pyramid, and late night craft time, The Mad Ones turn out an intimate anthem about regret and reinvention.
Since 2007, IRT Theater has served the downtown theater community by providing space, support and community for independent artists through its 3B Development Series. With the arrival of the New Ohio Theatre to the Archive Building in 2011, IRT has been blessed to have both a kindred spirit and philosophical forbearer move in right downstairs.
Our new residency program, the Archive Alliance offers two select independent theater companies a two year commitment of space, artistic support, and institutional continuity for the development and presentation of a new work. In other words, a home.
The residency includes two separate engagements in IRT's 3B Development Series and a one-week presentation in New Ohio's OBIE Award-winning Ice Factory summer festival. The residency culminates in the second year with a fully realized, four-week run in the New Ohio's main season.
The first two companies in residence are  The Mad Ones  and CollaborationTown. Check out this great Backstage Article about the program.
This partnership between New Ohio and IRT will further establish the West Village's Archive Building as one of the premier destinations for the development and presentation of NYC's best and brightest theater makers.
The Archive Residency is by invitation only. The best way for us to get to know your work and for you to get to know our work is to be a part of IRT's 3B Development Series and/or New Ohio's Ice Factory and/or invite us to see productions of your work.