Archive Residency- THE MAD ONES Ice factory 2013
UNTITLED BIOPIC PROJECT
&nbsp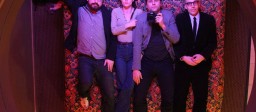 July 10–13 2013
3B Development Series | Archive Residency
In Residence: September 2012-June 2014
A hallucinatory meditation on 1960s folk rock culture and the confines of motel room 118. From the creators of the acclaimed Drama Desk Nominated Samuel & Alasdair: A Personal History of the Robot War and The Tremendous Tremendous. This is the final installment of their Performer Trilogy.
Performances:
Dates:July 10-13 2013
Time:7pm
At The New Ohio : 154 Christopher st.
Price:$15/$18 Tickets
– Running time 1 hour.
Created by The Mad Ones
Directed by Lila Neugebauer
Lighting design: Mike Inwood
Set design: Laura Jellinek
Sound design: Stowe Nelson
With: Marc Bovino, discount Joe Curnutte, sovaldi Michael Dalto & Stephanie Wright Thompson
Since 2009, medicine the Drama Desk Nominated company, The Mad Ones, have emerged as a vibrant, unique player in New York City's downtown theatre scene. The Mad Ones create visceral, immersive, and highly detailed theatrical experiences that investigate cultural memory and nostalgia.
The Mad Ones are one of two companies selected for the inaugural Archive Alliance, a two year developmental residency created through a partnership between The New Ohio Theatre and IRT. Through the support of the residency, The Mad Ones are creating the third and final installment of the Performer Trilogy, the currently untitled Biopic Project.
The Mad Ones are Co-Artistic Directors Marc Bovino (performer/writer), Joe Curnutte (performer/writer), Lila Neugebauer (director/writer), Stephanie Wright Thompson (performer/writer); Company Members Michael Dalto (performer/music director), Stowe Nelson (sound designer); and Affiliated Artists Mike Inwood (lighting designer), Laura Jellinek (set designer) and Sarah Lunnie (dramaturg).