Charlotte Purser
A Reading of The War Letters by Charlotte Purser
&nbsp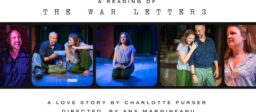 March 28 & 30 2023
IN RESIDENCE: March 21 – April 3, 2023
The War Letters is the story of my grandparents and a life-affirming, whimsical exploration into the soul of love.
It is a play for two actors that uses my grandparents' own letters from World War II to tell not only the story of their relationship, but to delicately trace my grandmother's experience of late-stage Alzheimer's disease.
The War Letters creates an otherworldly experience of memory, where nothing is quite what it seems- until finally everything has been stripped away and lost.
Through this intimate and magical environment, audiences discover the hope, beauty, and magic that remain, even in the most fractured moments, at the end of a life.
Written by Charlotte Purser
Directed by Ana Margineanu
Starring Jens Rasmussen and Charlotte Purser
Developed with dramaturg Tamilla Woodard
Lighting by Stephen Arnold
Sound by Evan Joseph
Set by Deb O
March 28th at 10am and 30th at 3pm for invited audiences Runtime 70 minutes
IRT Theater is a grassroots laboratory for independent theater and performance in New York City, providing space and support to a new generation of artists. Tucked away in the old Archive Building in Greenwich Village,  IRT's mission is to build a community of emerging and established artists by creating a home for the development and presentation of new work.
This program is supported, in part, by public funds from the New York State Council on the Arts and the New York State Legislature; New York City Department of Cultural Affairs in Partnership with the City Council; A.R.T./New York's NYC Small Theatres Fund made possible with support from the Howard Gilman Foundation & support for ASL interpretation provided in part through funding from Access A.R.T./New York.
ACCESS: ***IRT is a fully wheelchair-accessible facility. Please reach out to Kori Rushton if you have any accessibility questions or concerns, krushton@irttheater.org ***