Vagabond Inventions, with the support of the IRT Theater
Two-Day Clown Workshop: "Play the Game" Facilitated by Denni Dennis
&nbsp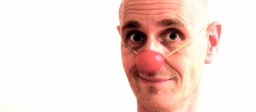 October 19-20 2013
This clown workshop  "Play the game" is a guided journey to discover your unique and personal way of bringing your intuitive clown to life. Learn how to build up and maintain the contact with the audience.
DATES:
October 19th (10am -3pm)
October 20th (10am- 3pm)
Fee for 1 day: $60
Fee 2 days: $100
Place: 154 Christopher st. suite 3B NY 10014
For more information contact: info@vagabondinventions.com
In this workshop Denni Dennis will combine his background of the European style of Jacques Lecoq, cure Russian character clown and the Pochinko method, decease with his personal experience working in clown and as a clown teacher.
Throughout this workshop, you will explore the clown's world – what makes us laugh and why, with an emphasis on having fun and searching for the beauty and poetry of each clown. Denni will help you take the necessary risk to become honest with yourself and who you are, as that is the only way to make your clown exist.
This workshop will allow you space and opportunity to explore plastic training, status play, improvisation, parody, and your personal creativity, working individually and within groups.
About Denni Dennis:
Denni Dennis was born in Denmark and is currently based in Wales, UK with his company The Denni Dennis' Company Clowns. He originally trained as a dancer, and then an actor at The Commedia School in Copenhagen DK and performed at The Royal Theatre, DK. Denni has extensive training in the Jacques Lecoq style, the Russian character clown, and the Pochinko method (Native American spiritual clown) which he has been studying with Sue Morrison in Canada. His work has taken him around Europe, USA, Canada and Russia both as a professional clown, workshop leader and director. He combines clown, mask, dance, acting, and improvisation to create unique and dynamic characters. His clown work has been featured in theatre, circus, dance performance and art installation. His company Denni Dennis Company Clowns' performed his original piece "Titanic" on a beach at night, this spring, and are currently developing "porn…O" which will be performed at Babeland, in Soho, New York in September 2013. He is also part of the cast of Vagabond Inventions' "For the Sins I Can Remember" performing at the IRT Theater Oct 4-20, 2013. For more information about Denni and his company, go to: www.dennidennis.com.