Sanguine Theatre Company
Wild by Crystal Skillman
&nbsp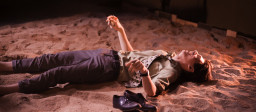 March 12- April 6 2014
IN RESIDENCE: March 4- April 7 2014
Peter and Bobby graduated from Northwestern together, live together, work together, sleep together. But when one of them cheats with a woman, they dive into a world of wild sexual affairs that threaten what they once had. But through this cycle of destruction and repair, will they find a different kind of love?
PERFORMANCES:
PREVIEW: March 12
OPENING: March 13
PERFORMANCES: Thurs-Sun, March 13-April 6
TIMES:
8pm Th-Sat, 3pm Sun.
LENGTH OF SHOW: 2 hrs.
PRICE: $15 online, $18 at the door
AT IRT: 154 Christopher st. NYC #3B (third floor)
CAST
David Armanino – Jordy
Hunter Canning* – Peter
Joshua Levine* – Ted
Lyonel Reneau – Vin
Jeff Ronan – Bobby
Diana Stahl – Nikki
*Denotes member of AEA.
Crystal Skillman (Playwright) – Crystal Skillman is the award-winning author of Cut (The Management in Spring 2011, New York Times critic's pick); Vigil, or The Guided Cradle (ITG/Brick, 2010 New York Innovative Theatre Award for Outstanding Full-Length Script); and Birthday & Nobody (directed by Daniel Talbott for Rising Phoenix Rep in NYC, U.K Premiere with Kibbo Productions, Chicago at The Side Project).
Evan F. Caccioppoli (Director) – Evan F. Caccioppoli received a BFA in Theatre Performance from the University of Illinois at Chicago and an MA in Educational Theatre at NYU. He also studied at The Poor School in London, England, and performed at the International Theatre Festival in Varna, Bulgaria. Evan is a proud member of Actors' Equity Association, SAG/AFTRA, and associate member of the Stage Directors and Choreographers Society.
Sanguine Theatre Company is a small but mighty pioneer for rising artists and new works. Since its founding in New York City in 2010, Sanguine's work has given NYC debuts to dozens of actors, designers, and playwrights. Sanguine's mission is to advance the art of American theatre through the spirit of collaboration, making art accessible to everyone.
Jillian Robertson (Artistic Director)
Karly Fischer (Executive Producer)
Anna Fearheiley (Associate Producer) 

See below for feedback on the 2012 Chicago premiere of Wild:
"Skillman and director Evan Caccioppoli get two things exactly right: (1) the special ring of hell that is living with someone you've broken up with and (2) the fact that long-term love is more than anything an act of determination." — Time Out Chicago  
"Playwright Crystal Skillman shows her talent for storytelling …Wild is quite funny, honest, sexy and entertaining." — Chicago Critic
Photo by:Christopher Fitzer
Please note that this performance contains full frontal nudity.