Diana Amsterdam/Karen Kohlhaas
Carnival Round the Central Figure
&nbsp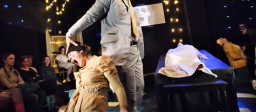 January 13-30, 2011
"Like dying itself, it's a weird unpredictable trip."
— Washington Post
A wild ride into theatrical terrain that arouses the senses, in a space fantastically suited to its provocative energy, Carnival Round the Central Figure is the story of a young girl who takes five steps to the bedside of her dying friend, simply to acknowledge that he is dying and let him go. In a staging that is both wickedly funny and giddily horrifying, she is stopped by forces of religious fervor, denial, and insane positive thinking.
"A funny and beguiling 100 minutes" — New York Times
"Playwright Diana Amsterdam dares to take on this difficult subject matter in a macabre, surreal and sometimes hilarious look at the last days and hours of someone dying. A fascinating production, beautifully directed with wit and compassion by Karen Kohlhaas. Carnival Round the Central Figure is powerful and poignant in this stylistic and wildly theatrical presentation. All is right with The Carnival round the Central Figure. Please make an effort to see it." — TalkEntertainment
"Comedies don't come much darker than Diana Amsterdam's Carnival Round the Central Figure, a hard-core but justified lampooning of the strange etiquette we adhere to when watching loved ones pass away. Amsterdam's relentless script makes a glib burlesque out of the oblique religious platitudes, idle chitchat, and straight-up dishonesty we typically inflict upon the dying… it makes a touching case for, as Sigmund Freud said, making friends with the necessity of dying." — Backstage (Critic's Pick)
"Karen Kohlhaas's direction is fluid and thoughtful, making good use of a large cast and small quarters. With little space to separate audience from action, this cozy theatre on Christopher Street swells with color and fervor…Amsterdam weaves together a strong argument for honest communication when dealing with death and terminal illness." — nytheatre.com
"[Carnival Round the Central Figure] is a playground to explore the ways in which humanity deals with the ultimate truth through religion, silly chatter and platitudes. A production of the IRT Theatre, it is directed by Karen Kohlhaas with all the intensity it deserves." — Times Square Chronicles
"Truly unique production." — ELJ.com
…And check out the AndrewAndrew insta-review on Papermag
Carnival Round the Central Figure
Performances: January 13-30, 2011
First presented as a co-production of the Atlantic Theater School and Tisch School of the Arts Theater Department in 1996, then fully produced at Washington D.C.'s Gunston Arts Center, Carnival Round the Central Figure returns to New York this winter with director Kohlhaas and five of the original cast members–Livia Scott , Kori Rushton, Shane LeCocq, Cynthia Silver and Christine Rowan–uniting from all over the country to reprise their roles. The rest of the large cast including a rousing chorus will be cast exclusively from Atlantic Acting School alumni.
By Diana Amsterdam
Directed by Karen Kohlhaas
Produced by Kori Rushton/IRT
CAST
Carla Briscoe*
Ted Caine
Janna Emig
Brandon Kyle Goodman*
Stephanie Hsu
Raymond Hill
David Michael Kirby
Shane LeCocq*
Christine Rowan*
Kori Rushton*
Rebecca Schoffer
Livia Scott
Cynthia Silver*
Danni Simon*
Ed Stelz
*Actors appearing courtesy of AEA Showcase Codes
Managing Producer
Jaki Silver
Assistant Managing Producer
Danielle Connor
Stage Manager
Veronica Graveline
Musical Director
David James Boyd
Assistant Director
Rick Cekovsky
Arden Walentowski
Set Design
Walt Spangler with Jisun Kim and Melissa Shakun
Lighting Design
Eric Southern
Costume Design
Katja Andreiev
Public Relations
Springer Associates PR
Graphic Design
Kaveh Haerian
Logo Design
Dylan Sanford
Photo by Deneka Peniston