The New Collectives
Teaching the Teaching Artists: Professional Development Workshops for Arts Educators
&nbsp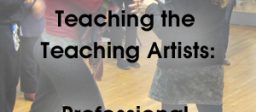 March 18, 2018
Stepping into History: Theatre Arts Integration in History and Social Studies Classes 11p to 12p
Using theatre arts in History and Social Studies classes can expand both factual knowledge on a subject, as well as deepen a student's empathetic connection to what they are learning. This workshop will focus on using historical source material for dramatic exploration. We will work with a wide variety of historical source materials – newspaper articles, eyewitness accounts, diary entries, photographs, objects, historical fiction, poetry, pieces of art – and share activities, exercises and ideas for using this kind of rich material for dramatic creation. We will brainstorm about how Teaching Artists can collaborate with Classroom Teachers in devising lesson plans that will have students encountering history on their feet, exploring characters, events and motivations, while also building theatrical skills and gaining confidence in public speaking and performance.
Ticket Price:$25 to $45 sliding scale; $80 to $100 sliding scale for both workshops. 
March 18, 2018, 10:30am – 12:00pm
At IRT:154 Christopher st. NYC #3B (third floor)

Positive Behavior Management Training for Teaching Artists 1p to 4:00p
Are you an arts educator with a passion for your subject and your students? Do you have trouble finding ways to redirect their enthusiasm? Do you long for teaching tools that will help you create an orderly, positive atmosphere in the classroom, while leaving ample room for freedom of expression? This 3-hour workshop offers Teaching Artists and other arts professionals the tools to work more effectively with children. Facilitator Erin Maxon, Education and Outreach Director of The New Collectives, translates established behavior management systems for the specific needs of the Arts in Education classroom. The workshop will include hands-on practice, activities, and readings that can be applied in classrooms immediately.
Ticket Price:$55 to $75 sliding scale; $80 to $100 sliding scale for both workshops.
March 18, 2018, 1:00pm – 4:00pm
At IRT:154 Christopher st. NYC #3B (third floor)
Sam Leichter (Associate Education Director):
Sam Leichter has worked in theatre education for over seven years. Sam served as the Education Manager at Marin Shakespeare Company in San Rafael California, overseeing in-school and after-school programs, adult/senior classes and workshops, as well as an extensive summer camp. For the last three years, Sam has been a Teaching Artist with George Street Playhouse in New Brunswick, New Jersey. Sam's teaching work with George Street has been phenomenally varied. He has led in-school, curriculum-based residencies on a wide range of subjects, such as the life of Ponce to Leon (3rd Grade), the experience of children in the Holocaust (7th grade), the Civil Rights Movement (6th Grade) and Greek mythology (5th-8th Grades). In addition, Sam has worked recently with Wingspan Arts, and was a co-teacher at the New Collectives Shakespeare Camp this past summer. Sam holds a BA from Bates College, and received his MFA in Acting from Rutgers, where he has taught Basic Acting to undergrads. Sam is a working actor, a member of of Actor's Equity Association, and performs regularly in classics and new works.

Erin Maxon (Education Director):
Erin Maxon has more than 12 years experience teaching and facilitating art, drama, and music to people age 0 to 90.  Her expertise lies in the use of ethical facilitation to create a safe space for people to try on different aspects of themselves.  She is thrilled to pass on elements of her expertise as a Professional Development Facilitator for teaching artists.  Erin is trained in the student-centered Responsive Classroom educational philosophy, NoBully response techniques, and the Harkness Method of discussion-based learning.  She has her Master's in Applied Drama: Theatre in Educational, Community and Social Contexts from the University of London at Goldsmiths, and a BA in Anthropology and Theater from UC Berkeley.  Erin has spent time working with numerous educational and artistic organizations including but not limited to Z Space; National Trust UK; Cabrillo Community College; San Francisco Day School; Ring Mountain Day School; Berkeley Playhouse; Tenryu and Urugi Board of Education in Nagano, Japan; Action for Refugees; Eastside Westside Music Together; Lawrence Hall of Science; and more.   For a full resume and examples of her work, please visit erintatemaxon.com.
The New Collectives is a New York based theatre and film collective. TNC's mission is to create new, intimate, innovative works drawing inspiration from classic plays, to develop contemporary work, and to cultivate community through outreach and education programming. The Young Collectives, TNC's education wing, guides young people towards a deep love of Shakespeare's stories through active, holistic, and inclusive drama programming. The company offers a beloved annual Shakespeare Camp, in-school programming and professional development for educators. In addition, the company fosters connections between artists and audiences through our outreach and community engagement programs.
For more information on The New Collectives please visit www.thenewcollectives.com
IRT Theater is a grassroots laboratory for independent theater and performance in New York City, providing space and support to a new generation of artists. Tucked away in the old Archive Building in Greenwich Village,  IRT's mission is to build a community of emerging and established artists by creating a home for the development and presentation of new work. Some of the artists we have supported include Young Jean Lee, Reggie Watts and Mike Daisey.
This program is supported, in part, by public funds from the New York City Department of Cultural Affairs in Partnership with the City Council, New York State Council on the Arts, and The Nancy Quinn Fund, a project of ART-NY.
PLEASE NOTE: All sales final and there is no late seating at IRT Theater.
***IRT is a fully wheelchair-accessible facility.***