Immediate Medium
Doesn't Everybody Do It In Paris?
&nbsp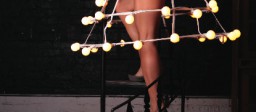 June 9-26, 2010
DOESN'T EVERYBODY DO IT IN PARIS? is a dance theatre piece inspired by Flaubert's Madame Bovary and choreographed by IM Managing Director Liz Vacco. An exploration of what happens when our ambitions are thwarted by reality, Paris reflects upon Emma's fecklessly aspirational worldview and its relationship to the uniquely American culture of ambition, puritanical self-denial and conspicuous consumption. The piece further underscores these themes by introducing the story of the first English translator of Madame Bovary, Eleanor Marx Aveling, whose suicide by cyanide oddly mirrored Emma's suicide at the end of the novel. Featuring a versatile, moveable set of live plants and choreographed specifically for untrained dancers, Paris investigates the novel and Marx's life through movement, live and recorded music, video and spoken text.
Wednesdays/Thursdays/Fridays at 8pm
Saturdays at 8pm and 10pm
Sundays at 6pm
IRT Theater: 154 Christopher St., buzzer 3B
New York, NY
June 9-13: $15.00
June 18-26: $20.00
GALA PERFORMANCE & PARTY
Saturday, June 26
$40: 6pm show / pre-show food and drinks at IRT
$75: 8pm show / post-show dinner and drinks at
Paris Commune
$10 school groups | call 212-696-7227
TDF vouchers accepted.
CHOREOGRAPHY & DIRECTION: Liz Vacco
MUSICAL ARRANGEMENT: Brady Jenkins
PRODUCTION DESIGN: JJ Lind
COSTUMES: Maki Takenouchi, Liz Vacco
SOUND & VIDEO: Nathan Lemoine
FEATURING: James Allerdyce, Max Dana, Brady Jenkins, Nathan Lemoine, Nadège Néchadi, Maki Takenouchi, Siobhan Towey
DOESN'T EVERYBODY DO IT IN PARIS? was first presented as a work-in-progress in August 2004 at Green Street Studios in Cambridge, Massachusetts and was workshopped in IRT's 3B Development Series in New York in June 2009.
This program is supported, in part, by our donors and by public funds from the New York State Council on the Arts, the New York City Department of Cultural Affairs and the Nancy Quinn Fund, a project of A.R.T./New York. Production design support provided by the Edith Lutyens and Norman Bel Geddes Foundation.