Alexandria Wailes
Dynamic Non-Verbal Acting
&nbsp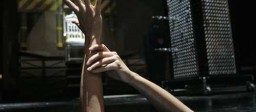 Saturday, Feb 12 2011: 11am - 2pm
This is a workshop for advanced ASL users with acting experience who are interested in taking their abilities to the next level. There are many existing schools of thought about the incorporation of sign language in performance. This workshop will help you to develop and hone your creativity and imagination, become a better performer, and add your voice to the innovative changes that are being made at the forefront of sign language in performance.
Participants will experience a part of the process that accomplished actress Alexandria Wailes uses when interpreting classical text into accessible sign. Alexandria will first lead the group in a discussion of archaic sign languages and the dynamic ways in which sign language has evolved from previous eras, as well as how sign language can successfully be adapted in performance.
The workshop will help you develop new tools, artistically, to build a dynamic approach that honors the languages in use. Participants will be paired up and given a passage of Henry David Thoreau's writing. Each pair will develop and perform an interpretation of the writing, which will then be shared with the group and critiqued by Alexandria.Everyone will then collaborate in combining the interpretations. You will witness and experience how varying choices and interpretations can be derived from the same vocabulary.
Saturday, February 12 from 11am – 2pm
at IRT
154 Christopher Street, #3B (third floor)
(between Greenwich and Washington)
Price: $20
This workshop is offered to support the development of Soul Strata Theater's OF RIVERS, OF DAYS